Ports & Logistics
(Posted on 09/11/18)
A vision for inland waterway transport (IWT) in the Baltic Sea Region as well as means to strengthen inland shipping were highlighted in Brussels this week, when about 90 participants from around the Baltic Sea Region (BSR) gathered to discuss the future of inland waterway transport to the final conference of project EMMA...
(Posted on 09/11/18)
The event, organised by Port Authority of Bilbao and AZTI, is aimed at port-sector companies and technological and training centres wishing to know the application of the challenges this convention representsOn 10 December, the Port of Bilbao will host the second RETOLASTRE conference on the "International Ballast Water Convention...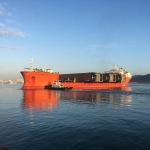 (Posted on 01/11/18)
The gates of the new sea lock at IJmuiden are on their way to the Netherlands. The gates left South Korea by ship this week. They are expected to be underway for about two months.Ijmuiden is located at the mouth of the North Sea Canal to Amsterdam, the second largest coal and agribulk transhipment port in Europe and world'...
(Posted on 01/11/18)
The SAFIR consortium, a group of 13 public and private organisations, has been selected by Single European Sky ATM Research Joint Undertaking (SESAR JU) to demonstrate integrated Drone Traffic Management for a broad range of drone operations in Belgium. The goal of the SAFIR project is to contribute to the EU regulatory process...
(Posted on 01/11/18)
The MV Tasmanic Winter has finished its voyage from China to Rotterdam with 24 new vessels on board built at Damen yards in Changde and Yichang. In line with its standard practice, Damen is transporting these in batches to the Netherlands where most of them will be ready for sale to customers seeking the shortest possible delivery...
(Posted on 01/11/18)
The Port of Corpus Christi, Texas has appointed Clark Robertson as its Chief Operating Officer, a position last held by Chief Executive Officer Sean Strawbridge.Accomplished in industrial real estate acquisitions, economic development, transportation sales and marketing, Robertson has expertise in developing and leading results-...