Santos open despite COVID-19 concerns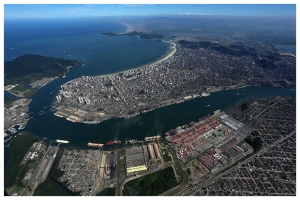 (Posted on 20/03/20)
Addressing ongoing comments that the Port of Santos might undergo an operations shutdown as a result of Covid-19 contamination risk, Santos Port Authority (SPA) informs that no such interruption is programmed for the foreseeable future. SPA works closely with the port community, acting to ensure the full operation of the Port of Santos, respecting all determinations of the public health authorities.
SPA reiterates that the port is fully operational and that all maritime and road accesses are open, without any restriction. Additionally, SPA informs that has taken measures to protect its employees, clients and partners of eventual contagion risks.
The Port of Santos is the largest in Latin America. Connecting over 600 ports in 125 countries. In 2018, the port was responsible for processing 133 million tons of cargo, generating USD 250 million in revenue. Primary hinterland comprises 5 states representing 67% of Brazil's GDP.
Santos Port is home to 32 terminals and 65 berths. They process all range of cargo, such as dry bulk, liquid bulk, break bulk, roll-on roll off, general cargo, containers, special cargo and project solutions. The port connects Santos with over 600 other ports globally in 125 countries.
Santos is the most important foreign trade route in Brazil. Almost 27% of the country's trade balance (USD 112.3 bi) passes through the port.
Latest News
(Posted on 31/03/23)
The Port of Long Beach and the Los Angeles/Orange Counties Building and Construction Trades Council... Read more
(Posted on 28/03/23)
Canadian Pacific has said that, on 14 April, 2023, it will exercise the authority granted by the U.S... Read more
(Posted on 24/03/23)
LOGISTEC Corporation, a leading marine and environmental services provider, has announced its financial... Read more
(Posted on 24/03/23)
Terence Bowles, President and CEO of the St. Lawrence Seaway Management Corporation (SLSMC), and Adam... Read more
(Posted on 20/03/23)
Abu Dhabi based AD Ports Group, the leading facilitator of global trade, logistics, and industry, has... Read more
(Posted on 20/03/23)
Grain handling at the Port of Immingham is increasing thanks to the new opportunities presented by investment... Read more
(Posted on 07/03/23)
Marcor Stevedoring has signed a contract adding Liebherr's largest and most powerful mobile harbour... Read more
(Posted on 07/03/23)
AD Ports Group, an Abu Dhabi based leading facilitator of global trade, logistics, and industry, and... Read more
(Posted on 02/03/23)
LOGISTEC Stevedoring Inc., a subsidiary of LOGISTEC Corporation, a leading North American marine and... Read more
(Posted on 28/02/23)
End-of-year figures for total traffic in the Spanish Port of Bilbao stand at 32.7 million tonnes, up... Read more