Ports & Logistics
(Posted on 04/07/18)
PD Ports welcomed the UK's Shadow Secretary of State for Transport, Andy McDonald MP, to Teesport recently, to learn first-hand of the major role logistics plays in keeping the UK economy moving.As a Member of Parliament for Middlesbrough since 2012, Mr McDonald is a strong supporter of Teesport, one of the UK's deepest...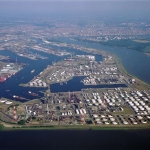 (Posted on 27/06/18)
Railport Antwerp, a joint initiative by Antwerp Port Authority, the Left Bank Development Corporation and the industry associations Essenscia Vlaanderen and VOKA-Alfaport, is to expand its activities. The company will actively serve rail transport in the port with the aim of doubling the proportion of rail transport in the port...
(Posted on 27/06/18)
The Canadian federal government has announced $167 million in funding for three projects that will improve the movement of goods to and from the Port of Vancouver and support Canada's competitive position in international trade.This, combined with $55.8 million announced last month for four other critical infrastructure projects...
(Posted on 27/06/18)
Euroports has increased its paper and pulp storage capacity in the port of Tarragona, Spain by 25%, bringing its total pulp and paper storage capacity at this terminal to 30,000 square meters. Euroports' bonded terminal has a dust-free area, a terminal length of about 300 meters and 16.5 meters draft.With its 10 forest products...
(Posted on 27/06/18)
With the presentation of the RSD Tug 2513, on the 25th June at the ITS 2018 in Marseille, France, Damen has introduced its next generation ship-handling tugs. Composed of a mix of new designs and a further evolution of existing designs, this next generation series is built on a solid foundation. New and proven technologies are combined...
(Posted on 27/06/18)
As one of the UK's major port operators and logistics specialists, PD Ports has been a strong advocate of the value employing former military workers brings to the business, with around 8% of its 1,200 workforce being service veterans and reservists.Russ McCallion, PD Ports' HR Director, said: "The wealth of transferable...