Ports & Logistics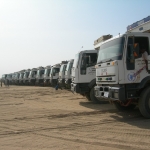 (Posted on 15/11/18)
Last month was an exciting time for the IMGS team who had a very challenging assignment with the World Food Programme (the food-assistance branch of the United Nations) in Guinea-Bissau, West Africa. IMGS supervised and executed a massive logistics operation that saw the discharge of a very large quantity of Bagged Rice for...
(Posted on 15/11/18)
A collaboration agreement has been signed in the port of Antwerp between on the one hand Antwerp Port Authority and its consultancy and investment subsidiary Port of Antwerp International (PAI) and on the other Enabel, the Belgian development agency. The aim of the agreement is to combine forces with a view to further sustainable...
(Posted on 15/11/18)
The Port of Newcastle, Australia has welcomed two new senior executives. Tanya McDonald has commenced in the role of Executive Manager Corporate Affairs and Trent Gearside has joined the team in the role of Executive Manager Projects & Infrastructure.Tanya brings significant experience as a senior executive in the Queensland...
(Posted on 15/11/18)
For the second consecutive year, the Port of Long Beach has broken its October record for cargo, as volumes rose 5.4 percent compared to the same month in 2017. October 2018 was also the third-busiest month in the Port's 107-year history.Port of Long Beach Executive Director Mario Cordero said the results illustrate the evolving...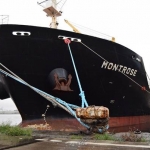 (Posted on 09/11/18)
ABP's Port of Immingham has welcomed a substantial quantity of high-grade fertiliser for distribution to farmers across the country, from one of their oldest customers. International grain, fertiliser and seed merchant Gleadell Agriculture has been importing and exporting a range of agribulk products at Immingham since the...
(Posted on 09/11/18)
A vision for inland waterway transport (IWT) in the Baltic Sea Region as well as means to strengthen inland shipping were highlighted in Brussels this week, when about 90 participants from around the Baltic Sea Region (BSR) gathered to discuss the future of inland waterway transport to the final conference of project EMMA...