Ports & Logistics
(Posted on 11/09/18)
In a context in which HAROPA seaborne traffic globally remains stable, at 45.8 M tonnes, the first six months of 2018 were marked by very good figures for highly strategic trades.The market share of HAROPA for the export of wheat and barley produced in France (2017-2018 season) reached a record level of 50%, with 75% traffic growth...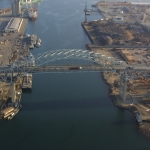 (Posted on 03/09/18)
The Port of Long Beach is continuing to outperform 2023 clean air goals for diesel particles and sulphur oxides, even while cargo volumes have jumped to record levels, according to a comprehensive study of Port-related air pollution emissions.The 2017 annual "emissions inventory" found the Port's aggressive actions...
(Posted on 03/09/18)
The CN EcoConnexions Partnership Programme celebrates companies that pledge to work to reduce their carbon emissions, increase energy efficiency and drive sustainable business practices throughout the supply chain."CN is proud to recognize these companies and supply chain partners and we congratulate each of them on their...
(Posted on 03/09/18)
Transhipment in the North Sea Canal Area at the seaports Amsterdam, IJmuiden, Beverwijk and Zaanstad declined to 49.4 million tonnes in the first half of 2018, a decrease of 5.1%. The Port of Amsterdam saw transhipment fall by 4.8% to 40.2 million tonnes.In IJmuiden, transhipment declined to 9.3 million tonnes (-4.4%), Beverwijk...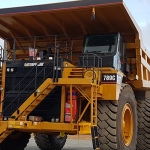 (Posted on 28/08/18)
North Queensland Bulk Ports Corporation (NQBP) has delivered record trade for the 2017-18 financial year with 187.7 million tonnes of throughput passing through its four trading ports.Deputy Premier and Treasurer Jackie Trad said the figure is a 10% increase on the prior year and represents trade growth at each port. "This...
(Posted on 28/08/18)
In the first half of 2018 the Port of Hamburg achieved total throughput of 66.5 million tons. That represented a moderate downturn of 4.9 percent, with the downward trend slowing in the second quarter. General cargo throughput at 45.5 million tons (down 2.2 percent) and bulk cargo throughput at 21.1 million tons (down 10.4 percent...