UWC and Acron agree on 500 hopper cars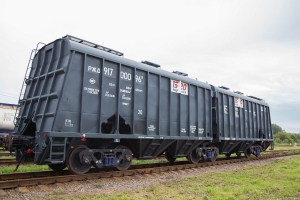 (Posted on 15/07/21)
Research and production corporation, United Wagon Company, Russia's largest manufacturer of freight cars , and the Acron Group, one of the leading mineral fertilizer producers in Russia and worldwide, have signed a strategic cooperation memorandum set to result in a purchase and sale agreement for 500 new generation hopper cars for mineral fertilizers.
In accordance with the memorandum, innovative mineral hopper cars, Model 19-9549-03, manufactured at Tikhvin Freight Car Building Plant (TVSZ, part of the UWC Group) will be delivered to the Acron Group by the end of Q1 2022. An increased body volume of up to 120 m3 and an axle load of up to 25 t allow the car to transport cargo using its full load capacity of 76 t, which significantly reduces the cost of transporting a tonne of cargo and the fleet size required.
UWC and the Acron Group have been cooperating since 2013. The Acron Group is one of the world's largest mineral fertilizer producers. Its annual volume of cargo transported by rail is about 9 million tonnes per year and is continuously increasing due to the development of its production facilities. The purchase of another batch of Tikhvin railcars will make it possible to meet the Group's production plan as part of its development strategy by delivering cargo to Group's customers and production facilities on time.
Background:
The Acron Group is one of the leading vertically integrated mineral fertilizer producers in Russia and the world.
The Group's chemical facilities are located in Veliky Novgorod (PJSC Acron) and Smolensk Region (PJSC Dorogobuzh). The Group has its own phosphate mining business in the Murmansk region (JSC NWPC) and implements a potash project in the Perm region (JSC VPC). It also possesses its own logistics infrastructure, including three port terminals in the Baltic Sea and distribution networks in Russia and China. Acron's subsidiary, North Atlantic Potash Inc. (NAP), holds permits and production licences for 10 potash salt districts at its Prairie Evaporite deposit in Saskatchewan, Canada. Acron also holds a minority stake of 19.8% in Poland's Grupa Azoty S.A., one of Europe's largest chemical producers.
In 2020, the Group sold 7.8 million tonnes of its main products to 74 countries worldwide. The Group's main markets are Russia, Brazil, Europe and the USA.
In 2020, the Group's consolidated IFRS revenue was RUB 119,864 million (USD 1,661 million) and EBITDA amounted RUB 35,311 million (USD 489 million). Acron's shares are traded on the Moscow Exchange and its GDRs are listed on the London Stock Exchange (ticker symbol: AKRN). Acron Group employs over 11,000 people.
Latest News
(Posted on 07/12/23)
US Port owners should start immediate planning to take advantage of the $3bn available in grants as... Read more
(Posted on 07/12/23)
The Vancouver Fraser Port Authority's board of directors has announced that it has appointed Peter... Read more
(Posted on 03/12/23)
In the presence of Kassym-Jomart Tokayev, President of the Republic of Kazakhstan, AD Ports Group, a... Read more
(Posted on 03/12/23)
Lhyfe, a global pioneer in the production of renewable green hydrogen for transportation and industrial... Read more
(Posted on 26/11/23)
A 194 million euro investment in North Sea Port will secure large-scale CO2 reduction by the largest... Read more
(Posted on 17/11/23)
The Central Association of German Seaport Operators (ZDS) has called for a decisive German port policy... Read more
(Posted on 13/11/23)
A groundbreaking feasibility study has highlighted the potential for using clean ammonia to refuel ships... Read more
(Posted on 05/11/23)
IAPH has announced the ratification by the IAPH Council of the new IAPH Board. The Board is formed by... Read more
(Posted on 05/11/23)
CN has announced that it acquired from Genesee & Wyoming Inc., a stake in the Cape Breton &... Read more
(Posted on 31/10/23)
Due to continued very high inflation, the Hamburg Port Authority (HPA) will raise port fees by an average... Read more