Record year for Pilbara Ports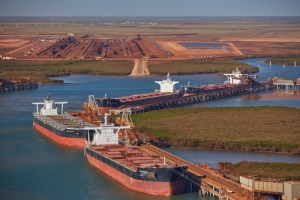 (Posted on 15/07/21)
In a year when the Port of Port Hedland welcomed its first LNG-fuelled bulk carrier, the Panama-flagged HL Green, Western Australia's Pilbara Ports has achieved another record-breaking year, with a total annual throughput of 724.7 million tonnes.
Pilbara Ports Authority was formed by the amalgamation of the former port authorities of Dampier and Port Hedland.
This strong year-on-year performance follows Pilbara Ports Authority exceeding 700 million tonnes for the first-time last financial year and represents an increase of 14 per cent over the past five years.
Pilbara Ports Authority CEO Roger Johnston said the organisation's strong performance was a result of improved port efficiencies, which has helped to meet the strong demand for iron ore exports.
"The investment to increase the Port of Port Hedland's capacity is paying off, with the enhancements resulting in an expanded shipping window to enable more vessels to sail on high tide per year, as well as increasing the amount of product that can be safely loaded onto vessels," Mr Johnston said.
"Pilbara Ports Authority has contributed to Western Australia's enviable economic position, with the value of commodities passing through our ports in 2020-21 estimated to be in excess of $155 billion – this is a 29 per cent increase compared to the previous year.
"This is a testament to the ports continuing to operate at full capacity throughout COVID-19, with Pilbara Ports Authority navigating border closures and strict maritime regulations to deliver safe and reliable operations for the benefit of the resources sector and the State of Western Australia."
Other key achievements for 2020-21 include: Port Hedland and Dampier ports received biosecurity approvals to enable them to receive direct maritime freight from international ports for the first time; the Port of Dampier Land Use Master Plan was released, which charts the direction of growth and future development needs of the Port for the next decade; the 10th anniversary of Utah Point Bulk Handling Facility in Port Hedland; 11 properties acquired by Hedland Maritime Initiative, PPA's wholly-owned subsidiary, and a further 22 properties with executed contracts progressing to settlement.
Latest News
(Posted on 26/11/23)
A 194 million euro investment in North Sea Port will secure large-scale CO2 reduction by the largest... Read more
(Posted on 17/11/23)
The Central Association of German Seaport Operators (ZDS) has called for a decisive German port policy... Read more
(Posted on 13/11/23)
A groundbreaking feasibility study has highlighted the potential for using clean ammonia to refuel ships... Read more
(Posted on 05/11/23)
IAPH has announced the ratification by the IAPH Council of the new IAPH Board. The Board is formed by... Read more
(Posted on 05/11/23)
CN has announced that it acquired from Genesee & Wyoming Inc., a stake in the Cape Breton &... Read more
(Posted on 31/10/23)
Due to continued very high inflation, the Hamburg Port Authority (HPA) will raise port fees by an average... Read more
(Posted on 31/10/23)
The UK's leading ports group, Associated British Ports (ABP), has appointed Jeff Gibb as Lead... Read more
(Posted on 26/10/23)
In the first nine months of 2023, there was 6% less throughput in the port of Rotterdam: 329.9 million... Read more
(Posted on 26/10/23)
After nine months, the total throughput of Port of Antwerp-Bruges was 204.4 million tonnes, a drop of... Read more
(Posted on 19/10/23)
LOGISTEC Corporation have announced that it has entered into an arrangement agreement with 1443373... Read more