Ports & Logistics
(Posted on 28/08/18)
The Anglesey Rail intermodal freight terminal (ARiFT) in Holyhead is now operational, marine and logistics operator Armitt Group announced.The 5.5 ha rail facility (can be expanded to 10 ha) is part of the 213 acre Orthios Logistics Hub & Eco Park site which is connected to the West Coast Main Line via the North Wales Coast...
(Posted on 28/08/18)
Following the publication of the UK Government's advice on contingency planning for a 'no deal' Brexit outcome, the British Ports Association (BPA) has suggested that negotiators have it in their power to agree a deal that would end months of uncertainty regarding the future arrangements at UK and EU borders. Highlighting...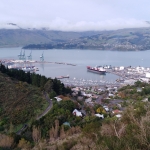 (Posted on 20/08/18)
OMC International, the world leader in under-keel clearance technology for ports and harbours, has helped Lyttelton Port Company (LPC) significantly reduce the volume of dredging required to upgrade the Port's entrance channel, through use of Dynamic Under Keel Clearance (DUKC) technology.Later this month one of the world'...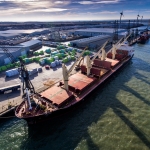 (Posted on 16/08/18)
Peel Ports London Medway has completed a significant investment programme into its grain facilities at the Port of Sheerness, strengthening its existing proposition for Kent's established grain market. Peel Ports Group is the UK's second largest port group, owning and operating six of the UK's most important ports...
(Posted on 16/08/18)
Port Generated Over $100 Million in Business Revenue in 2017, Significantly Contributed to Local Commerce and Employment.As the northernmost point in Lake Michigan for inland barge transit, the Port of Milwaukee is a major barge gateway for oversized and heavy cargo.Port Milwaukee's maritime cargo and vessel activity had a...
(Posted on 16/08/18)
Pilbara Ports Authority (PPA) has delivered a total monthly throughput of 56.1 million tonnes (Mt) for the month of July 2018. This was an increase of 6% from the same month in 2017.PPA was established on 1 July 2014 as a result of the Ports Legislation Amendment Act 2014 consolidating seven of WA's eight port authorities...