Ports & Logistics
(Posted on 31/01/19)
Nominations and entries for the 2019 FTA Multimodal Awards are open, and snooker legend Steve Davis, OBE, has been announced as the host of the gala event.The FTA Multimodal Awards, hosted in Birmingham, UK, recognise best in class across all modes of transport and logistics services, including categories for Shipper of the Year...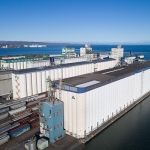 (Posted on 23/01/19)
The final vessel of the shipping season departed the Port of Thunder Bay last week capping off a busy end to another good year at the Lake Superior port. MV Kaministiqua is headed for Windsor with a load of canola from the Canadian prairies.Kaministiqua was one of 65 vessels to call the port during the final month...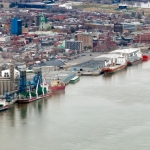 (Posted on 22/01/19)
In 2018, the Canadian Port of Trois-Rivières handled 3.8 million metric tonnes (MMT) of cargo. This represents an increase of 47% compared to 2017 and a new record that eclipses the 3.7 MTM of traffic realized in 2014.While liquid bulk traffic remained stable at nearly 300,000 tonnes, solid bulk and general cargo traffic...
(Posted on 22/01/19)
NQBP Trade Development Manager Darren Fursman said Mackay is one of the major servicing centres for the Central Queensland mining and agricultural industries."As a business, we identified the potential for an area within the port to cater for a common user facility that can accommodate a variety of bulk trades," Mr Fursman...
(Posted on 22/01/19)
The Hamilton Port Authority's 2018 cargo results are in, revealing the highest volume of cargo handled through the port in more than a decade. The Port of Hamilton is the seventh largest port in Canada by volume, and the largest in Ontario.More than 11.6 million metric tonnes of cargo was imported or exported through the Port...
(Posted on 22/01/19)
Kangaroo Island Plantation Timbers has announced that it has signed a Memorandum of Understanding (MoU) with Flinders Ports Pty Ltd, under which the parties will work together on an exclusive basis to achieve a port operating model that is designed to produce an optimal solution for the port owner, port operator and port users...