Rotterdam expansion of ship-to-ship berths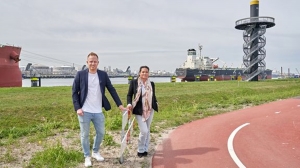 (Posted on 25/05/22)
Three new berths will be added to the port of Rotterdam this summer. There will be a new set of dolphins, and an existing set of dolphins will be drastically modified, making more transhipment space available. Kesih van den Berg and Willem Schreij from the Port of Rotterdam Authority work closely together at the Shipping Desk. Kesih: 'The way in which we perform these operations is unique in the world."
Kesih is the Business Manager Bulk & Cargo Shipping and has frequent contact with agencies, shippers and shipping companies. Willem is the Business Manager Ship-to-Ship Operations, the point of contact for agencies, and the product owner of the KING application, the online booking system for the buoys and dolphins. Why this further expansion of the dolphin sets? Willem: 'From the Maasvlakte all the way to Dordrecht, the port of Rotterdam has 29 berths with buoy spans and sets of dolphins on the water. The ships are securely anchored here, so that they can be loaded and unloaded safely. It also makes bunkering, repair jobs, waiting and cleaning safer. The buoys and dolphins are used so intensively, that we are at maximum utilisation capacity.
Besides, demand for berths is increasing. Kesih: 'This is partly due to changes in legislation and regulations on safe, clean and efficient operation handling. We also try to attract new cargo packages actively, for which we need berths as well.'
As demand for berths was growing, Kesih and Willem made a business case for expansion. Willem: 'We spoke a lot with agencies, shipping companies and shippers; everybody needs space and is positive about the expansion. With the high utilisation rate, we could show our organisation that buoys and dolphins were used to maximum capacity, so our expansion proposal was quickly accepted.'
'Sustainability is a key aspect,' Willem adds. 'Initially, the dolphins are intended for transhipment, but they can also be used for bunkering, repairs, cleaning and waiting. If more berths are available, vessels do not need to be shifted to open sea to wait there. A reduction of movements leads to reduced carbon emissions and saves our clients time and money.'
What does the extra set of dolphins mean for Rotterdam? Willem: 'The dolphins contribute to safety and sustainability in the port, and there is more space for LNG. Three additional berths means that fewer vessels need to go offshore, with emission reduction and less fuel consumption as a result. These ship-to-ship operations involve many parties, such as tugs, pilots, agents, cranes and inland shipping.
Latest News
(Posted on 07/12/23)
US Port owners should start immediate planning to take advantage of the $3bn available in grants as... Read more
(Posted on 07/12/23)
The Vancouver Fraser Port Authority's board of directors has announced that it has appointed Peter... Read more
(Posted on 03/12/23)
In the presence of Kassym-Jomart Tokayev, President of the Republic of Kazakhstan, AD Ports Group, a... Read more
(Posted on 03/12/23)
Lhyfe, a global pioneer in the production of renewable green hydrogen for transportation and industrial... Read more
(Posted on 26/11/23)
A 194 million euro investment in North Sea Port will secure large-scale CO2 reduction by the largest... Read more
(Posted on 17/11/23)
The Central Association of German Seaport Operators (ZDS) has called for a decisive German port policy... Read more
(Posted on 13/11/23)
A groundbreaking feasibility study has highlighted the potential for using clean ammonia to refuel ships... Read more
(Posted on 05/11/23)
IAPH has announced the ratification by the IAPH Council of the new IAPH Board. The Board is formed by... Read more
(Posted on 05/11/23)
CN has announced that it acquired from Genesee & Wyoming Inc., a stake in the Cape Breton &... Read more
(Posted on 31/10/23)
Due to continued very high inflation, the Hamburg Port Authority (HPA) will raise port fees by an average... Read more