Ports & Logistics
(Posted on 23/05/23)
A senior delegation from United Arab Emirates (UAE) visited Karachi and met with H.E. Faisal Sabzwari, Federal Minister For Maritime Affairs, Government of Pakistan. The delegation was led by Captain Mohamed Juma Al Shamisi, Managing Director and Group CEO of AD Ports Group along with senior delegates. AD Ports Group is the leading...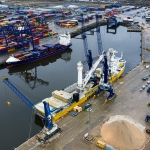 (Posted on 16/05/23)
Two new electric harbour cranes, representing an £8.6 million investment, are the latest arrivals at Tees Dock in the UK as port operator and owner PD Ports continues to demonstrate its commitment to driving sustainability.The Liebherr cranes, which tower at an impressive 83m with the boom fully raised, and improve handling...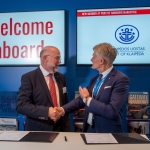 (Posted on 14/05/23)
At a ceremony held during the transport logistic trade fair in Munich, Algis Latakas, General Director of the Klaip?da State Seaport Authority signed a declaration of cooperation with Hafen Hamburg Marketing e.V (HHM). "Joining Hafen Hamburg Marketing e.V. is a continuation of the cooperation agreement signed between the ports of...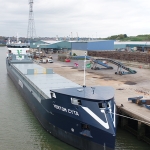 (Posted on 08/05/23)
Associated British Ports (ABP's) Port of Ipswich, the UK's leading grain export port, has welcomed the maiden call of the MV Vertom Cyta, a brand-new hybrid-electric shortsea General Cargo Ship.The Vertom Cyta is the second in a series of four new Vertom vessels fitted with a diesel-electric propulsion system, which...
(Posted on 02/05/23)
AD Ports Group, the Abu Dhabi based leading facilitator of global trade, logistics and industry, has announced plans to expand its fleet with the purchase of five bulk carriers and three crude oil tankers.These vessel acquisitions will follow the recently signed agreements as part of the Group's strategic global expansion...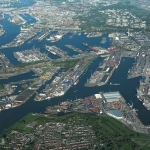 (Posted on 28/04/23)
In the first quarter of 2023, 1.5% less freight passed through the port of Rotterdam than in the same period last year. In total, 111.7 million tonnes were handled compared with 113.4 million tonnes in the same period in 2022. The fall mainly concerned the throughput of containers and freight in the breakbulk segment (Roll-on/Roll...