Ports & Logistics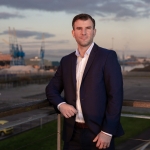 (Posted on 31/10/23)
The UK's leading ports group, Associated British Ports (ABP), has appointed Jeff Gibb as Lead Property Asset Manager to drive strategic change and deliver growth from its UK property portfolio, which encompasses 16 ports across Wales and the Southwest, East Anglia, Northwest and Scotland.Jeff has been with ABP as a Senior...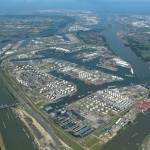 (Posted on 26/10/23)
In the first nine months of 2023, there was 6% less throughput in the port of Rotterdam: 329.9 million tonnes compared to 351.0 million tonnes in the same period in 2022. The decline was mainly related to the throughput of containers and coal. Throughput of iron ore and scrap, agricultural bulk and LNG increased.The drop in the...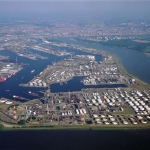 (Posted on 26/10/23)
After nine months, the total throughput of Port of Antwerp-Bruges was 204.4 million tonnes, a drop of 6% compared to the same period last year. The still unstable geopolitical and economic conditions are negatively impacting demand for container traffic around the world, while the picture is still mixed for other cargo flows. Thanks...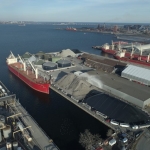 (Posted on 19/10/23)
LOGISTEC Corporation have announced that it has entered into an arrangement agreement with 1443373 B.C. Unlimited Liability Company, an entity owned by certain funds managed by Blue Wolf Capital Partners LLC in partnership with Stonepeak, a leading alternative investment firm specializing in infrastructure and real assets,...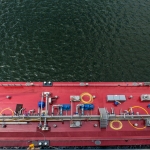 (Posted on 18/10/23)
From 1 January 2026, the use of a bunker measurement system for bunker vessels in the ports of Antwerp-Bruges and Rotterdam will be mandatory. From this point onwards, bunker vessels in the two ports must have a certified system that indicates the exact amount of fuel they are delivering to seagoing vessels.With this measure, the...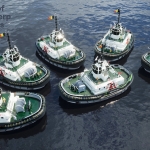 (Posted on 11/10/23)
The Port of Antwerp-Bruges has placed an order with Damen Shipyards for five diesel-powered RSD Tugs 2513 fitted with the Damen Marine NOx Reduction System, and one electric RSD-E Tug 2513. This is part of the ongoing renewal of its fleet. Port of Antwerp-Bruges bought the first diesel RSD Tugs 2513 three years ago and their performance...