Ports & Logistics
(Posted on 04/11/19)
The Port of Gdansk, has outlined huge expansion plans designed to double its cargo volumes to 100m tonnes a year, during a high-level maritime and business delegation from Poland to Singapore.The delegation marks 50-years of diplomatic ties between the countries and is being organised with PSA International, the Singapore based...
(Posted on 28/10/19)
Essar's Ports business, which operates four terminals on the east and west coasts of India, has registered a 20.07% growth in cargo volumes with a throughput of 27.29 Million Tonnes (MT) in the first half of FY2019-20.The growth has been driven by a 183.21% increase in third-party cargo compared to that in the corresponding...
(Posted on 28/10/19)
The first solar concentrator farm in the European process industry has been inaugurated in the Port of Antwerp. The pioneering energy technology generates eco-friendly heat from concentrated sunlight that can be used by industrial companies. The plant was installed for Adpo by the Genk-based energy company Azteq as part of a pilot...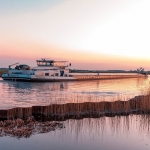 (Posted on 18/10/19)
The Dutch Inland Waterway Cooperative, NPRC, has digitised its 'supply chain' in a smart way to enable clients to track the status of their cargo with precision. Since the summer, clients have also been able to track connections to sea-going transport in Rotterdam as well as having real-time insight into inland shipping...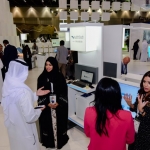 (Posted on 18/10/19)
Maqta Gateway, an Abu Dhabi Ports company, has announced the development of a new mobile and web-based App designed to enhance marine traffic and vessel servicing.MARSA, of which Abu Dhabi Marine Services (SAFEEN) and the Harbour Master of Abu Dhabi Ports will be key users, is a fully integrated app intended to simplify...
(Posted on 18/10/19)
One year on since releasing its Air Quality Strategy and pledging a series of commitments, the Port of Southampton reveals significantly improved average levels of nitrogen dioxide across the port.Last Summer, and more than one year ahead of Government requirements, the Port of Southampton published an Air Quality Strategy including...