Peel completes autonomous vessel trial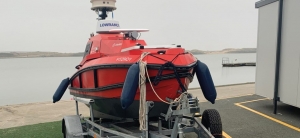 (Posted on 28/03/21)
Peel Ports is the first Port group in the United Kingdom to take delivery of an autonomous unmanned survey vessel, which completed its first successful trial at Crosby Marine Lake, North of Liverpool last week.
Peel Ports offered Sefton Council the first trial of FITZROY's services which provided hydrographic charts of Crosby Marine Lake, located a short distance from The Port of Liverpool. Its survey capabilities were able to provide valuable data of the lakebed which will feed into the upcoming planned dredging operations.
The trial also provided assurance to Peel Ports that the quality of the data is equal to that of previous surveys conducted by manned vessels.
Developed by L3 Harris and featuring pioneering technology, the 4.5m vessel, named FITZROY, weighs 1 tonne and carries multibeam sonar equipment capable of hi resolution seafloor mapping down to 100m.
It is designed to provide autonomous solutions to improve working efficiency on the water in order to gather data about the marine environment and can be used for hydrology research, scientific exploration, hydrographic survey, emergency search and rescue and other tasks. It uses GPS location tracking to follow pre-set waypoints and mission parameters, navigating autonomously while intelligently avoiding obstacles up to 50m ahead. The vessel communicates to the remote base station by WIFI, 4g and VHF radio.
Russell Bird, Deputy Group Harbour Master said "This recent investment show Peel Port's commitment to innovation in the marine environment whilst reducing emissions and enhancing safety. The use of autonomous and remote vehicles is growing exponentially and we are delighted to be leading that charge in the Ports sector"
FITZROY's remote capability presents many benefits including the removal of high-risk activities generally associated with crew working aboard small survey vessel in dynamic marine environments. Its compact features will also facilitate its transportation to the Group's multiple port locations across the UK, and will make her maiden voyage to Great Yarmouth next week.
Latest News
(Posted on 07/12/23)
US Port owners should start immediate planning to take advantage of the $3bn available in grants as... Read more
(Posted on 07/12/23)
The Vancouver Fraser Port Authority's board of directors has announced that it has appointed Peter... Read more
(Posted on 03/12/23)
In the presence of Kassym-Jomart Tokayev, President of the Republic of Kazakhstan, AD Ports Group, a... Read more
(Posted on 03/12/23)
Lhyfe, a global pioneer in the production of renewable green hydrogen for transportation and industrial... Read more
(Posted on 26/11/23)
A 194 million euro investment in North Sea Port will secure large-scale CO2 reduction by the largest... Read more
(Posted on 17/11/23)
The Central Association of German Seaport Operators (ZDS) has called for a decisive German port policy... Read more
(Posted on 13/11/23)
A groundbreaking feasibility study has highlighted the potential for using clean ammonia to refuel ships... Read more
(Posted on 05/11/23)
IAPH has announced the ratification by the IAPH Council of the new IAPH Board. The Board is formed by... Read more
(Posted on 05/11/23)
CN has announced that it acquired from Genesee & Wyoming Inc., a stake in the Cape Breton &... Read more
(Posted on 31/10/23)
Due to continued very high inflation, the Hamburg Port Authority (HPA) will raise port fees by an average... Read more