Rotterdam closer to hydrogen backbone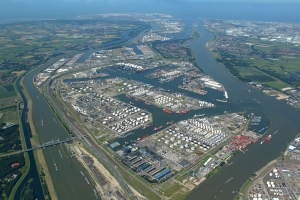 (Posted on 22/03/21)
The Port of Rotterdam Authority and Gasunie are working together on the development of a new hydrogen pipeline that will form the backbone of the future hydrogen infrastructure in Europe's largest port. The plans are in the final phase before start of construction. Parties intend to take this main transmission pipeline into operation by the second quarter of 2024. Companies that intend to consume or produce hydrogen are welcome to link up to this open access hydrogen pipeline. In the second half of 2021, Gasunie?and the Port Authority will be taking a definite decision regarding the execution of this project, which has been entitled HyTransPort.RTM.
The realisation of the hydrogen pipeline within the HyTransPort.RTM project is a key step forward in establishing Rotterdam as a major European hydrogen hub. The pipeline will be constructed between the areas of Maasvlakte and Pernis and will have a diameter of 60 cm (24 inches). It will be an open access pipeline, which means that any company that wishes to consume or supply hydrogen in the area can connect to the pipeline. In the future, the pipeline will also be linked to the national hydrogen grid that is being realised by Gasunie. It will also be connected with Chemelot?in Limburg, the German state of North Rhine-Westphalia and other European regions.
The Port Authority and Gasunie believe that hydrogen will play an important part in achieving the agreed-upon climate goals, strengthening the Dutch economy and ensuring security of energy supply. This also motivated both parties' decision to join the Hydrogen Coalition.
Shell has already expressed enthusiasm about potentially connecting with the hydrogen pipeline. The company is currently in talks with Gasunie and the Port of Rotterdam Authority about the prerequisites and specifications for using the pipeline. Shell sees hydrogen as one of the key pillars of the energy transition and is developing plans for the construction of an electrolyser at Maasvlakte 2, which will be used to produce hydrogen. The Port of Rotterdam Authority and Gasunie are also holding exploratory talks with a number of other parties. Companies that have not yet conferred about possibly becoming users of the pipeline but are nevertheless interested in discussing this option are welcome to contact Gasunie and the Port of Rotterdam Authority. They can meet to discuss their desired technical specifications for the hydrogen pipeline. Companies that wish to participate as launching?customer are asked to inform the Port of Rotterdam Authority and Gasunie before April 10 2021.
Latest News
(Posted on 05/06/23)
Peel Ports Group is investing £28 million on a new facility at the Port of Liverpool in its biggest... Read more
(Posted on 02/06/23)
Vancouver Fraser Port Authority CEO Robin Silvester has announced that he will be leaving the port authority... Read more
(Posted on 31/05/23)
AD Ports Group , the Abu Dhabi based leading facilitator of global trade, logistics and industry, has... Read more
(Posted on 31/05/23)
The World Port Climate Action Program (WPCAP) will be extended with a new focus on shore power, new... Read more
(Posted on 30/05/23)
Ships sailing from the North Sea via the Westerschelde to unload dry bulk goods at OVET's quay in Vlissingen... Read more
(Posted on 23/05/23)
The problematic trend in the world economy is affecting Port of Hamburg throughput figures. As in other... Read more
(Posted on 23/05/23)
A senior delegation from United Arab Emirates (UAE) visited Karachi and met with H.E. Faisal Sabzwari... Read more
(Posted on 16/05/23)
Two new electric harbour cranes, representing an £8.6 million investment, are the latest arrivals... Read more
(Posted on 14/05/23)
At a ceremony held during the transport logistic trade fair in Munich, Algis Latakas, General Director... Read more
(Posted on 08/05/23)
Associated British Ports (ABP's) Port of Ipswich, the UK's leading grain export port, has... Read more