Greenlight for Teesside waste to energy project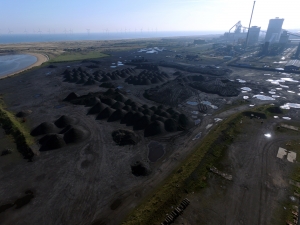 (Posted on 28/03/21)
Two of the UK's leading waste to energy companies – Low Carbon Ltd and PMAC Energy – have announced that planning consent has been granted for a new £300 million pound state-of-the-art waste to energy centre on the site of the former Corus Steel works.
The Redcar Energy Centre – which is set for completion in 2025 – forms a cornerstone development for the UK's largest industrial zone as part of the South Tees Development Corporation's ambitious redevelopment objectives to provide heat and electricity to advanced manufacturing facilities and residential properties in the local area.
And with the site providing excellent road, rail and port facilities to both the UK and European waste markets it is expected to divert between 350,000 and 490,000 tons of refuse derived fuels per annum away from UK landfill, generate enough energy to power over 100,00 homes and deliver more than £300million of inward investment to the region.
This will include the employment of over 400 local and highly skilled workers during its 36-month construction phase with the availability of over 100 full time operational jobs.
In line with its ambitions to be a greener, more efficient and lower cost solution to landfill and export and – in partnership with the Net Zero Teesside Carbon Capture project located adjacent to the site - the plant is committed to zero emission energy from waste.
Speaking about the project Rob Lewis, MD at PMAC Energy said: "Redcar is the perfect site for the location of this plant. It has always been a long-term goal of PMAC Energy to develop a large-scale sustainable Energy from Waste recovery centre in the North East and we are thrilled to have the support of Low Carbon in developing the Redcar Energy Centre.
Using our extensive experience, we have designed a smart, flexible solution for both waste management and energy recovery to support the expanding list of future developments in neighbouring areas."
Occupying a 25-acre site within Redcar Bulk Transport, and alongside the River Tees, the Redcar Energy Centre is a joint venture between Low Carbon and PMAC Energy, both of which are vastly experienced in delivering waste to energy schemes, with Low Carbon having six assets currently in development across the UK and Europe.
Roy Bedlow, Founder and Chief Executive of Low Carbon added: "The 49.9MW subsidy-free Redcar Energy Centre will use proven conventional technology to provide a reliable source of controllable energy for more than 100,000 homes. Not only this but it adds flexibility to the fuel and recycling supply chains and provides hundreds of jobs to an area with a proud industrial heritage.
"Low Carbon is delighted to bring forward our third consented waste project in the UK and to use our experience in developing large-scale renewable and low-carbon energy projects to help deliver this project in the Tees Valley."
Latest News
(Posted on 26/11/23)
A 194 million euro investment in North Sea Port will secure large-scale CO2 reduction by the largest... Read more
(Posted on 17/11/23)
The Central Association of German Seaport Operators (ZDS) has called for a decisive German port policy... Read more
(Posted on 13/11/23)
A groundbreaking feasibility study has highlighted the potential for using clean ammonia to refuel ships... Read more
(Posted on 05/11/23)
IAPH has announced the ratification by the IAPH Council of the new IAPH Board. The Board is formed by... Read more
(Posted on 05/11/23)
CN has announced that it acquired from Genesee & Wyoming Inc., a stake in the Cape Breton &... Read more
(Posted on 31/10/23)
Due to continued very high inflation, the Hamburg Port Authority (HPA) will raise port fees by an average... Read more
(Posted on 31/10/23)
The UK's leading ports group, Associated British Ports (ABP), has appointed Jeff Gibb as Lead... Read more
(Posted on 26/10/23)
In the first nine months of 2023, there was 6% less throughput in the port of Rotterdam: 329.9 million... Read more
(Posted on 26/10/23)
After nine months, the total throughput of Port of Antwerp-Bruges was 204.4 million tonnes, a drop of... Read more
(Posted on 19/10/23)
LOGISTEC Corporation have announced that it has entered into an arrangement agreement with 1443373... Read more