Home win for the River Tees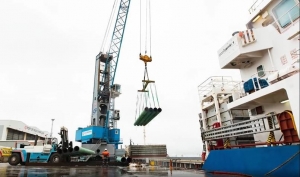 (Posted on 17/03/21)
Three Teesside family firms have worked together to secure a post Brexit shipping deal, keeping business in the region and supporting the growth of Middlesbrough's port facilities.
Shipping companies, Casper Shipping and Cockfield Knight, along with AV Dawson, owner and operator of Port of Middlesbrough, have collaborated to provide a complete local supply chain solution to help a major UK steel stockholder import steel into Teesside.
Casper Shipping secured a vessel on a long-term charter to deliver a broader, more competitive logistics offering to its clients. Cockfield Knight, who were looking to broker a vessel for their customer, to import steel pipes from Cyprus to Tees, decided to 'buy-local', selecting Casper Shipping's vessel for the job. Cockfield Knight also acted as port agent, coordinating the safe arrival of the vessel at AV Dawson's Port of Middlesbrough.
Gary Dawson, AV Dawson's managing director said: "This is a great example of not only the strength of the offering of the River Tees' maritime sector but also the appetite for collaboration among Teesside businesses. Using local operators rather than national chains keeps work in the region, supporting local jobs and the regional economy.
"This particular cargo which has been imported for Cleveland Steel & Tubes, will be used within the UK construction sector - which like the shipping and logistics sector, seems to have managed to continue to keep busy despite the challenges of Covid.
"A recent cargo we imported for this same customer will actually be staying at our port for a very long time - not because of any Brexit delays but because it will be utilised within the rede-velopment of our quayside. The steel pipes will be used for piling on one of our berths at Port of Middlesbrough to support the reconstruction and strengthening of the quay wall - so they literal-ly will be supporting the future growth of our port."
Over the last couple of years, both Cockfield Knight and Casper Shipping have seen a step in-crease in demand for their services. Ship brokering has increased dramatically for Cockfield Knight and Casper Shipping now has seven ships on charter.
Michael Shakesheff, managing director of Casper Shipping said: "We started our chartering business, Casper Chartering a few years ago as part of strategy and expansion plans as we ap-proach our 150th anniversary in 2022. We are one of very few cargo vessel operators actually based in the UK. With the major infrastructure developments planned for Teesside we feel there is a real opportunity for us to provide a competitive solution and as a result, keep our ships very busy just on the River Tees. That would be a positive result as it would illustrate how Teesside is really moving forward.
Frans Calje, CEO of PD Ports, Statutory Harbour Authority of the River Tees, said: "With over 270 years between them and an unwavering commitment to the region, these three family business-es illustrate the innovation, resilience and ambition we have within the businesses that operate on the River Tees but also more widely in the region."
Latest News
(Posted on 03/12/23)
In the presence of Kassym-Jomart Tokayev, President of the Republic of Kazakhstan, AD Ports Group, a... Read more
(Posted on 03/12/23)
Lhyfe, a global pioneer in the production of renewable green hydrogen for transportation and industrial... Read more
(Posted on 26/11/23)
A 194 million euro investment in North Sea Port will secure large-scale CO2 reduction by the largest... Read more
(Posted on 17/11/23)
The Central Association of German Seaport Operators (ZDS) has called for a decisive German port policy... Read more
(Posted on 13/11/23)
A groundbreaking feasibility study has highlighted the potential for using clean ammonia to refuel ships... Read more
(Posted on 05/11/23)
IAPH has announced the ratification by the IAPH Council of the new IAPH Board. The Board is formed by... Read more
(Posted on 05/11/23)
CN has announced that it acquired from Genesee & Wyoming Inc., a stake in the Cape Breton &... Read more
(Posted on 31/10/23)
Due to continued very high inflation, the Hamburg Port Authority (HPA) will raise port fees by an average... Read more
(Posted on 31/10/23)
The UK's leading ports group, Associated British Ports (ABP), has appointed Jeff Gibb as Lead... Read more
(Posted on 26/10/23)
In the first nine months of 2023, there was 6% less throughput in the port of Rotterdam: 329.9 million... Read more