Ports & Logistics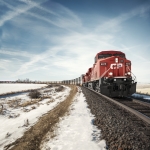 (Posted on 13/02/23)
Canadian Pacific moved 2.29 million metric tonnes of Canadian grain and grain products in January 2023, setting a new record for the month. CP has moved more than 15 MMT of Canadian grain and grain products thus far in the 2022-2023 crop year, exceeding the amount shipped by this time in the 2021-2022 crop year by more than 45 percent...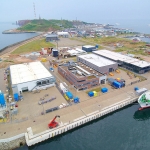 (Posted on 08/02/23)
The municipality of Helgoland has commissioned Hamburg Port Consulting (HPC) to carry out a concept study for the construction of a hydrogen bunker station on the deep-sea island. The study will require HPC to investigate the commercial and infrastructural suitability of the island as a potential location for H2 fuel supply for...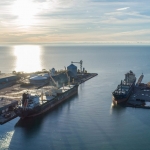 (Posted on 06/02/23)
At the conclusion of the 2022 shipping season, Hamilton-Oshawa Port Authority (HOPA) in Canada saw a total of 10,366,810 metric tonnes (MT) of cargo transiting the ports of Hamilton and Oshawa combined. A total of 628 vessels visited its two ports during the 2022 season, 569 in Hamilton and 59 in Oshawa.In 2022, 9.8 million MT transited...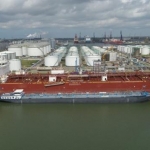 (Posted on 27/01/23)
In addition to helping its 12 member ports decarbonize, the World Ports Climate Action Program (WPCAP) has contributed to the faster adoption of sustainability standards and measures in the wider shipping industry. That was the main take away from the 4th meeting of CEO's and working group members of WPCAP, which was founded...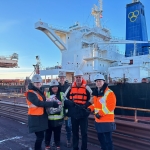 (Posted on 27/01/23)
The first ship of the year, M/V Cape Alexandros, arrived at 11:00 a.m. on January 4, 2023, from Rotterdam in the Netherlands and remained anchored in the bay awaiting loading. On Thursday morning, 12 January, a ceremony was finally held to present Captain Antonios Chatzigeorgiou with the commemorative cane traditionally awarded...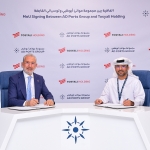 (Posted on 27/01/23)
AD Ports Group the leading facilitator of global trade, logistics, and industry, has signed a Memorandum of Understanding (MoU) with Tosyal?, one of Turkey's largest private steel producers, which has operations in three continents.The MoU looks to establish the framework for AD Ports Group to collaborate with Tosyal? on a...