Ports & Logistics
(Posted on 11/10/18)
North Queensland Bulk Ports' 2017-18 annual report, tabled in Queensland Parliament, has reported a record 187.7 million tonnes of throughput passed through NQBP's four operating ports and net profit after tax was $5.0 million. NQBP paid an annual dividend of $6.0 million to the state.Weipa, Abbot Point, Mackay and Hay...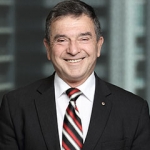 (Posted on 04/10/18)
Peter Corones has been appointed by the Queensland Government to lead Gladstone Ports Corporation (GPC). GPC is a Government Owned Corporation responsible for supporting and facilitating the trade of Central Queensland's major resource industries – including coal, liquefied natural gas and alumina - as well as agriculture...
(Posted on 04/10/18)
The five new fixed berths for barges along the Maas end of Isle of Brienenoord are 'good to go' say the Port of Rotterdam. The project, a Port of Rotterdam Authority initiative realised by the Werkendam firm De Klerk, was officially accepted by the client on Monday, 1st October 2018.While the site had already served...
(Posted on 04/10/18)
The Trois-Rivières Port Authority (TRPA) has announced the appointments of Ms. Véronique Néron and Mr. Pierre Ducharme to its Board of Directors. These new directors were appointed for three-year terms by Her Excellency the Governor General in Council.The Port of Trois-Rivières offers a wide range of...
(Posted on 04/10/18)
Metro Ports has announced the appointment of Robert Dickey as Metro Ports new president.In his role as president, Robert Dickey will have oversight responsibility for all Metro Ports operations domestic and internationally. Metro Ports companies include, but are not limited to, Metropolitan Stevedore Co., Suderman Contracting Stevedores...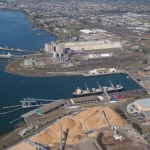 (Posted on 28/09/18)
A milestone 25-year agreement has been reached between GeelongPort in Australia and Boral Cement which will see Boral Cement invest $130 million to construct a new clinker grinding and cement facility at GeelongPort.In anticipation of the future demand for construction materials in the Victorian region, the new facility has been...