Albwardy Damen opens in Sohar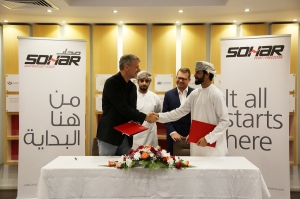 (Posted on 18/02/20)
On 12th February Albwardy Damen entered into an agreement with Sohar Port for the opening of a workshop. Sohar Port was originally built around three industrial clusters for metals, petrochemicals and logistics. Recently a fourth cluster was added with the launch of SOHAR Food Zone.
For the signing, which took place at Sohar Port and Freezone Head Office in Oman, Sohar Port was represented by Mark Geilenkirchen, CEO of Sohar Port and Albwardy Damen was represented by Mr Ibrahim Mohamed Al Shidi. The agreement will see the installation of a 40-foot workshop container at a service jetty in the Port, in collaboration with Albwardy Damen's Omani partner, Sawahel Sohar Al Almya, and will be Albwardy Damen's fourth operational location in the Middle East, along with those in Sharjah, Dubai and Fujairah.
Commenting on the importance of the agreement, Mark Geilenkirchen said, "Albwardy Damen is one of the renowned shipbuilding and ship repair providers in the Middle East. Our partnership with them is truly a reflection of our efforts to provide all our clients with state-of-the-art and high-quality services. The new service will also be a valuable addition to our offerings here at Sohar, further enriching our offerings, to ensure that we continue on our path of growth and progress in the region."
The upcoming workshop will be fitted out with relevant machinery and tools, including lathe, press, drilling and welding machines to offer easy and quick services for vessels calling at the port. There will also be the presence of certified engineers, to meet requisite customer needs.
Mark Pearson, Operations Director of Albwardy Damen commented, "Vessels calling into Sohar Port will also be able to benefit from the underwater services that are provided by Albwardy Damen Diving, which has an extensive history in serving the marine industry since 1995. The workshop container is currently being fabricated and we look forward to delivering it to Sohar."
Damen Shipyards Group operates 36 shipbuilding and repair yards, employing 12,000 people worldwide. Damen has delivered more than 6,500 vessels in more than 100 countries and delivers around 175 vessels annually to customers worldwide.
Latest News
(Posted on 20/03/23)
Abu Dhabi based AD Ports Group, the leading facilitator of global trade, logistics, and industry, has... Read more
(Posted on 20/03/23)
Grain handling at the Port of Immingham is increasing thanks to the new opportunities presented by investment... Read more
(Posted on 07/03/23)
Marcor Stevedoring has signed a contract adding Liebherr's largest and most powerful mobile harbour... Read more
(Posted on 07/03/23)
AD Ports Group, an Abu Dhabi based leading facilitator of global trade, logistics, and industry, and... Read more
(Posted on 02/03/23)
LOGISTEC Stevedoring Inc., a subsidiary of LOGISTEC Corporation, a leading North American marine and... Read more
(Posted on 28/02/23)
End-of-year figures for total traffic in the Spanish Port of Bilbao stand at 32.7 million tonnes, up... Read more
(Posted on 24/02/23)
The Port of Sept-Îles and LOGISTEC Arrimage Inc. have announced that they have reached the impressive... Read more
(Posted on 24/02/23)
The war in Ukraine led to unprecedented changes in goods flows last year. At 467.4 million tonnes, total... Read more
(Posted on 24/02/23)
In Q3 2022, two port operating companies in Guyana – Muneshwers Ltd. and John Fernandes Ltd. &... Read more
(Posted on 20/02/23)
The Port of Trois-Rivières closed 2022 with a record number of goods handled. A total of 4.3... Read more