Ports & Logistics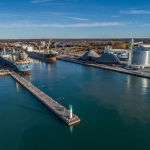 (Posted on 20/01/21)
Shipping season on the Great Lakes closed on 8th January and at the combined ports of Hamilton and Oshawa, HOPA Ports has reported a total tonnage for the season of 10.6 million metric tonnes. A total of 649 vessels visited the two ports during the 2020 season, 571 in Hamilton, and 78 in Oshawa.As an integrated port network, the...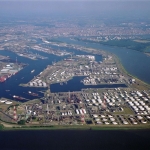 (Posted on 19/01/21)
The total throughput of Port of Antwerp in 2020 amounted to 231 million metric tonnes of cargo, a fall of 3.1% compared with the previous year. Thanks to the buoyant container throughput rates, which set a new record, the port was able to limit the overall decline in throughput. Compared with most other ports in the Hamburg-Le Havre...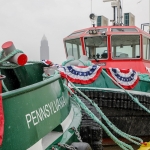 (Posted on 19/01/21)
The Great Lakes Towing Company has named two new tugs, the Pennsylvania and Wisconsin, at the Cleveland, Ohio, facility of its sister company Great Lakes Shipyard. The new tugs are the fourth and fifth vessels in a series of ten Damen Stan Tug 1907 ICE harbour tugs that Great Lakes Shipyard is building for The Great Lakes Towing...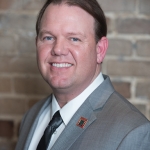 (Posted on 15/01/21)
David Ryan, Chairman of the New Orleans based Mississippi Valley Trade and Transport Council (MVTTC), has called upon members and delegates to do what is necessary to ensure survival and business success in the coming year.MVTTC member companies are involved in the production, consumption, handling, sales and distribution of millions...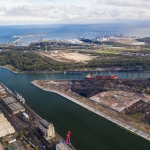 (Posted on 14/01/21)
The Port of Gdansk has announced that key projects within the largest investment programme in its history, covering €1.3 billion of infrastructure investments, will be completed in 2021.Port of Gdansk President ?ukasz Greinke said the improvements, which number almost 40 projects, are a giant leap forward as it seeks to establish...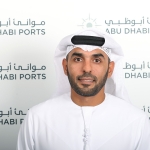 (Posted on 10/01/21)
Abu Dhabi Ports have announced a freeze on rent escalation during 2021 for all businesses in its Industrial Cities and Free Zone cluster, in a move aimed at providing further relief to its customers in KIZAD and ZonesCorp and boosting the Abu Dhabi economy in these challenging times.The effective freeze on rent increase for the...