Ports & Logistics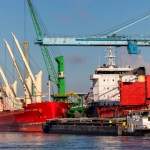 (Posted on 02/11/21)
North Sea Port is seeking to continue development as a major European port with eight strategic programmes. It has received the unanimous support of its eight shareholders for its 'Connect 2025' strategic plan.North Sea Port is a West European port that extends for more than 60 kilometers, 9.100 hectares, and across two countries...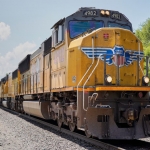 (Posted on 28/10/21)
The Port of Long Beach (POLB), the Utah Inland Port Authority (UIPA), and Union Pacific Railroad have announced a bold initiative that brings rapid relief from existing port congestion by optimizing rail deliveries between California and Utah. In a joint statement, Executive Directors Mario Cordero of the Port of Long Beach and...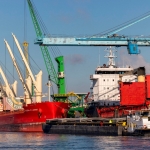 (Posted on 25/10/21)
Over the first nine months of this year, the companies in North Sea Port recorded 51.3 million tons of seaborne cargo transhipment. That is 9% more than in the same period in 2020.In 2020, North Sea Port faced a 13% fall in seaborne cargo transhipment over the first nine months - in the midst of the pandemic - compared to the previous...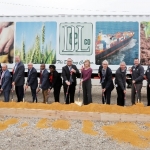 (Posted on 16/10/21)
Port Milwaukee and The DeLong Company, Inc. celebrated the groundbreaking on a nearly $35-million agricultural maritime export facility on Jones Island. Representatives from the Port, DeLong and the City of Milwaukee were joined by Wisconsin Governor Tony Evers, U.S. Senator Tammy Baldwin, U.S. Representative Gwen Moore, federal...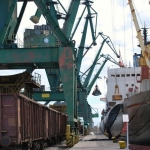 (Posted on 16/10/21)
The Port of Gdynia has ended the first nine months of 2021 with an increase of 12.7% in total cargo volumes. The largest increases were recorded in wood products + 119.2% year-on-year, crude oil and petroleum products + 67.7% , and general cargo + 15.7%.Continued increases of transshipments cargo in the port is due to cooperation...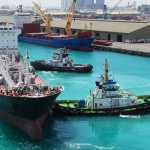 (Posted on 16/10/21)
AD Ports Group has announced its financial results for the first half of the year ended 30 June 2021, reporting revenue increase of 21% year-on-year to AED 1,832 million (USD 499 million) compared with AED 1,517 million (USD 413 million) in the first half of 2020, driven by organic growth, diversification into new businesses, new...