Ports & Logistics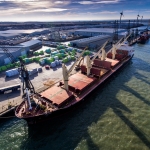 (Posted on 16/08/18)
Peel Ports London Medway has completed a significant investment programme into its grain facilities at the Port of Sheerness, strengthening its existing proposition for Kent's established grain market. Peel Ports Group is the UK's second largest port group, owning and operating six of the UK's most important ports...
(Posted on 16/08/18)
Port Generated Over $100 Million in Business Revenue in 2017, Significantly Contributed to Local Commerce and Employment.As the northernmost point in Lake Michigan for inland barge transit, the Port of Milwaukee is a major barge gateway for oversized and heavy cargo.Port Milwaukee's maritime cargo and vessel activity had a...
(Posted on 16/08/18)
Pilbara Ports Authority (PPA) has delivered a total monthly throughput of 56.1 million tonnes (Mt) for the month of July 2018. This was an increase of 6% from the same month in 2017.PPA was established on 1 July 2014 as a result of the Ports Legislation Amendment Act 2014 consolidating seven of WA's eight port authorities...
(Posted on 16/08/18)
The British Ports Association (BPA) has published its new sustainable development charter, which commits to supporting the dual aims of a strong and healthy environment and a thriving economy.The BPA represents 350 ports, terminals and port facilities across the UK. UK Ports handle 95% of the UK's international trade, keeping...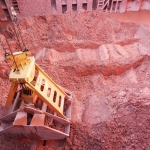 (Posted on 02/08/18)
The International Dry Bulk Terminals Group (DBTG) will discuss the important topic of accidents deriving from working in enclosed spaces such as the cargo holds of bulk ships at its next meeting in Baltimore in October. The DBTG was founded 20 years ago as a not-for-profit organisation that would provide a voice and forum for...
(Posted on 02/08/18)
The port of Rotterdam achieved throughput of 232.8 million tonnes in the first six months of 2018. That is 2.2% less than in the first six months of 2017. There was a clear fall in throughput of coal (-11.9%), partly as a result of the planned closure of coal-fired power plants. However, container throughput, one of the strategic...