Ports & Logistics
(Posted on 31/05/18)
Milwaukee Mayor Tom Barrett has appointed Adam Schlicht as Municipal Port Director. In this position, Schlicht will direct operations at Port Milwaukee, USA, oversee a staff of nineteen people, and administer Foreign Trade Zone No.41. His appointment is subject to Common Council approval.As the northernmost point in Lake Michigan...
(Posted on 31/05/18)
The Saint Lawrence Seaway Development Corporation (SLSDC) has announced the Dwight D. Eisenhower Visitors' Centre, located at the U. S. Eisenhower Lock, will open to the public and remain open daily, including weekends, through Labour Day, September 3, 2018.The Great Lakes St. Lawrence Seaway System is a deep draft waterway extending...
(Posted on 31/05/18)
Antwerp Port Authority has presented its new Business Plan. "In today's fast-changing world we aim to be a safe home port and act as a lever for all those who see opportunities and embrace challenge," says CEO Jacques Vandermeiren. "Our main advantages for this are our great adaptability and our strong focus on innovation and digitisation...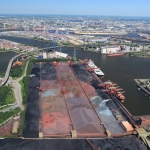 (Posted on 24/05/18)
This year's first-quarter throughput total was notable for a rise in conventional general cargoes, a lower figure of bulk cargoes, a stable trend in container handling and distinct growth on container transport services by rail.In the first quarter of 2018, the Port of Hamburg achieved total throughput of 32.7m tonnes (down...
(Posted on 24/05/18)
The Philippine Ports Authority (PPA) is accelerating its port infrastructure projects after port revenues posted strong figures in the first three months of the year.PPA continues to post favourable performance after posting a banner year in 2017 in terms of revenues and dividend remitted to the national coffers.PPA General Manager...
(Posted on 24/05/18)
The British Ports Association, representing over 350 ports, terminal operators and port facilities across the UK, has published its view on the Government's customs proposals.Chief Executive, Richard Ballantyne explained the BPA's view: "A very public debate over the UK's future customs arrangements has been playing...