Ports & Logistics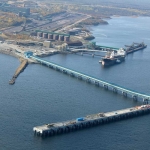 (Posted on 11/12/18)
The Port of Sept-Îles has announced that Tacora Resources Inc. is now a user of the port's multi‑user wharf, following the sale, announced by New Millennium Iron Corp. on 19th November of part of NML's reserved wharf capacity to the company and the completion of Tacora's Scully Mine restart financing...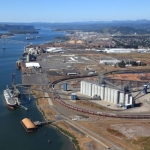 (Posted on 11/12/18)
The Port of Longview's Board of Commissioners have approved its infrastructure-focused 2019 Budget, which includes significant investments in the expansion of the Port's Industrial Rail Corridor (IRC) and cargo handling infrastructure.The IRC plays a critical role in the efficient movement of cargo throughout the region...
(Posted on 11/12/18)
Cargotec partnered with Rainmaking Ltd. in September this year to establish a startup collaboration programme called Trade & Transport Impact. The programme connects world leading corporations and innovative startups to address the biggest challenges in maritime, cargo transport and logistics.Applications to join can now be...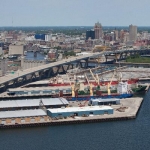 (Posted on 03/12/18)
The Wisconsin Department of Transportation has awarded a grant of approximately $3-million to Port Milwaukee to upgrade railroad track on Jones Island. The money, from the State's Freight Railroad Preservation Programme, will be combined with a previously budgeted 20% match from Port Milwaukee in order to complete work valued...
(Posted on 03/12/18)
Pilbara Ports Authority (PPA) has delivered a total monthly throughput of 57.3 million tonnes (Mt) for the month of October 2018. This throughput was in-line with the same month in 2017. The Port of Port Hedland achieved a monthly throughput of 40.8Mt, of which 40.1Mt was iron ore exports. These volumes were a slight decrease of...
(Posted on 03/12/18)
This year the Port of Riga has experienced a significant increase of timber cargo, which has become the second largest group of cargo in terms of volume. During the first ten months of this year the port has handled a total of 4.4 million tonnes of various types of timber cargo, one third more than in the previous year.Riga is the...