HPC initiates dialogue after devastating Beirut explosion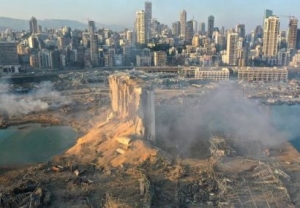 (Posted on 04/08/21)
HPC Hamburg Port Consulting, the leading logistics consultancy for ports, sea and inland terminals, as well as intermodal rail transport, has initiated the "Beirut PortCity Dialogue" platform with its partners. The goal is transparent communication and the discussion of central aspects of the Beirut port and city development with all those interested in revitalising the harbour and devastated neighbouring districts.
After the devastating Beirut explosion on August 4th, 2020, Covid-19 pandemic, the nationwide financial crisis, rampened unemployment and political instability, the Lebanese people are facing hard times. The explosion severely damaged both the port and surrounding areas, triggering the loss of life to more than 200 souls, more than 6,500 injured and the destruction of thousands of homes. Furthermore, a lack of a comprehensive reform vision is calling for the development of an inclusive solution for all.
International emergency support were swiftly provided in the months following the explosion. Combi Lift led the effort to transport 59 containers containing highly hazardous material to Germany for specialised treatment and disposal. In April 2021, HPC and Colliers, together with Fraunhofer IMW and the LGBC presented a proposal that envisages a scheme for a path ahead – the modernisation and expansion of the port capacity, with the relocation of sections of the port from the city centre to vacant industrial zones. As a result of such a modernisation, unused areas could be transformed into a socially balanced re-urbanisation, reconnecting Beirut with the sea. This re-urbanisaion would provide the income to finance the entire project. In this way, the concept avoids new debt for Lebanon.
"This explosion left a deep and still bleeding wound in the Lebanese capital whose inhabitants are still living with the psychological, physical and economic consequences of the blast. We are wholehearted with the people of Beirut and we want to support them so that they can rebuild their port and their city. With our proposal, we have put a tangible solution on the table that can now be discussed with all of Lebanon's stakeholders," says Suheil Mahayni, Managing Director of HPC. "The 'Beirut PortCity Dialogue' platform is an opportunity to discuss the proposed options publicly, transparently and with a focus on the public interest for the city and the country. The dialogue is open for anyone from the private sector, political and non-governmental organisations, as well as Lebanese individuals. Together, we want to develop a common understanding to rebuild the port, and the heritage damaged in the explosion."
Hermann Schnell, Managing Director of Colliers Germany and professor at the Flying Faculty GJU German-Jordanian University, says: "Our proposal considers European best practice in urban development with a strong focus on social housing and social infrastructure. It pairs with a robust investment concept integrating clean international private capital. This will be a different concept of helping the Lebanese people to help themselves with their undisputed qualifications instead of typical charity and unrealistic loans. In this way, we will create a real positive momentum against the negative dynamic in which this great country currently finds itself."
"This project is solely for the people of Lebanon," says Elias Philippe Assouad, President of the Lebanese German Business Council in Beirut. "For so many years, we have been demanding reforms and not to further squeeze out our middle-class. This project now makes us have a real port again as the engine for a nation of traders. And it starts turning Beirut to become a livable place for its citizens again. We have engaged with many already for contributing their ideas and accommodating their concerns. With no hesitation, we will continue this path. This project is for change in one of our country's darkest hours – challenging few profiting today but allowing so many to build a dignified life again."
Latest News
(Posted on 26/11/23)
A 194 million euro investment in North Sea Port will secure large-scale CO2 reduction by the largest... Read more
(Posted on 17/11/23)
The Central Association of German Seaport Operators (ZDS) has called for a decisive German port policy... Read more
(Posted on 13/11/23)
A groundbreaking feasibility study has highlighted the potential for using clean ammonia to refuel ships... Read more
(Posted on 05/11/23)
IAPH has announced the ratification by the IAPH Council of the new IAPH Board. The Board is formed by... Read more
(Posted on 05/11/23)
CN has announced that it acquired from Genesee & Wyoming Inc., a stake in the Cape Breton &... Read more
(Posted on 31/10/23)
Due to continued very high inflation, the Hamburg Port Authority (HPA) will raise port fees by an average... Read more
(Posted on 31/10/23)
The UK's leading ports group, Associated British Ports (ABP), has appointed Jeff Gibb as Lead... Read more
(Posted on 26/10/23)
In the first nine months of 2023, there was 6% less throughput in the port of Rotterdam: 329.9 million... Read more
(Posted on 26/10/23)
After nine months, the total throughput of Port of Antwerp-Bruges was 204.4 million tonnes, a drop of... Read more
(Posted on 19/10/23)
LOGISTEC Corporation have announced that it has entered into an arrangement agreement with 1443373... Read more