Ports & Logistics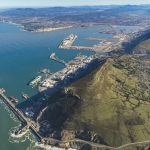 (Posted on 28/02/23)
End-of-year figures for total traffic in the Spanish Port of Bilbao stand at 32.7 million tonnes, up 1.5 million (5.1%) on 2021 figures and 3% higher than the average of all state-owned multi-purpose ports. Traffic has not yet returned to pre-pandemic figures but, with a stevedoring agreement reached and signed for the next six...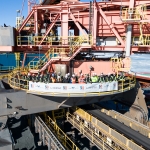 (Posted on 24/02/23)
The Port of Sept-Îles and LOGISTEC Arrimage Inc. have announced that they have reached the impressive milestone of handling 50 million tons of iron ore since the Port's multi-user dock opened in March 2018.Boasting diverse, state-of-the-art facilities, the Port of Sept-Îles is North America's largest ore...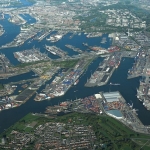 (Posted on 24/02/23)
The war in Ukraine led to unprecedented changes in goods flows last year. At 467.4 million tonnes, total throughput in Rotterdam was almost the same (-0.3%) as in 2021 (468.7 million tonnes) but the underlying figures show that there were major changes.The dry bulk segment saw an increase of 1.7% to 80.1 million tonnes. The agribulk...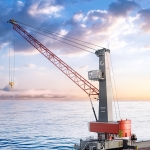 (Posted on 24/02/23)
In Q3 2022, two port operating companies in Guyana – Muneshwers Ltd. and John Fernandes Ltd. – made a joint order for two Generation 6 Konecranes Gottwald Mobile Harbour Cranes to build up cargo handling terminals in the capital Georgetown. When the cranes arrive in Q2 2023 they will be the very first mobile harbour...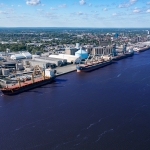 (Posted on 20/02/23)
The Port of Trois-Rivières closed 2022 with a record number of goods handled. A total of 4.3 million metric tonnes (MMT) of cargo transited through the Port, surpassing the 2019 record of 4.2 MMT and compared with 2021, this represents a 10% increase in Port activity.All types of traffic contributed to this increase. Indeed...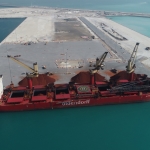 (Posted on 20/02/23)
AD Ports Group a global premier facilitator of logistics, industry and trade, has announced its financial results for the 12 months ended December 31, 2022, reporting strong operational and financial performance, with revenue growth of 41% year-on-year to AED 5.5 billion (+23% year-on-year to AED 4.8 billion organically).The Group...