Ports & Logistics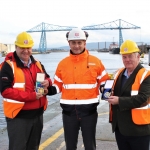 (Posted on 21/01/20)
Teesside's shipping community has appointed senior business leaders from two of the region's most successful port facilities to represent the industry.Gary Dawson, AV Dawson managing director and Garry O'Malley, Redcar Bulk Terminal (RBT) man-aging director take on the chair and vice chair roles for the industry...
(Posted on 21/01/20)
The Port of Kiel achieved a sound result last year. The cargo sector achieved an increase of 1.9 % to 6.8 million tons handled on the terminals operated by the Port of Kiel.In addition, there is the bulk cargo business at independent facilities so that all in all the 7 million ton mark could be affirmed despite the decommissioning...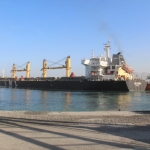 (Posted on 14/01/20)
The MV LMZ Phoebe has sailed from Saqr Port berth 10 with a draft of 12.78M. The vessel is the first to utilise the newly installed Dynamic Underkeel Clearance System (DUKC) provided by Australia based OMC International.Saqr Port and Free Zone's huge annual cargo-handling capacity, coupled with its ability to berth the world...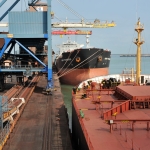 (Posted on 14/01/20)
Despite a reduction in solid bulk volumes last year, Dunkerque-Port's annual traffic reached 53 MT, up 3% from 2018 (51.6 MT).France's third-ranking port, Dunkerque-Port is well known as a port handling heavy bulk cargoes for its numerous industrial installations.It has built its reputation in other sectors such as cross-Channel...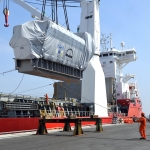 (Posted on 14/01/20)
The heavy goods specialist, Rhenus Project Logistics, is currentlyorganising the transportation, handling and storage of 13 enormous MANdiesel engines and their fixtures as part of a complex project. After havingbeen temporarily stored in Cuxhaven, the first six power generators arrivedin Turkey by ship at the end of November. They...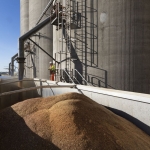 (Posted on 08/01/20)
North Sea Port has posted a record year for the third year in a row. The firms based in the port transhipped 71.4 million tonnes of seaborne cargo, an increase of 1.5%. The growth is mainly due to dry bulk and containers.Moreover, the figure of 71.4 million tonnes means North Sea Port has broken the 70 million tonne barrier for...