New Euroports grain unloading station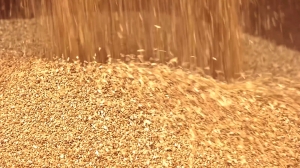 (Posted on 10/02/21)
A new grain unloading station will strengthen Rauma's grain traffic. During the autumn, Euroports and Suomen Viljava built a new unloading station in the Rauma port area. A long, continuous railway line and the cooperation of two experts in their respective fields ensure the cost-effective transport of grain from Russia to Finland. The capacity created by the cooperation is estimated at around 200,000 to 250,000 tons of grain per year.
In the autumn, a new hall was built at the port of Rauma on the shore of Pikisaari. The hall is a grain unloading station, which was built on the basis of cooperation between two parties operating in the area, Euroports Rauma Oy and Suomen Viljava Oy.
The construction project started in October and the infrastructure was completed in accordance with our goal at the turn of the year. The last installation work and test runs were carried out in December, after which it was time for commissioning, says Janne Virta, Commercial Director of Euroports.
"The first steps towards the cooperation were taken after the summer at the initiative of Euroports.
Vast quantities of grain are transshipped from Russia to Finland and then shipped forward to different parts of the world. Based on this, we started to think about a possible service concept and contacted the VR Group responsible for grain transportation. They advised us to contact Suomen Viljava. The next day, Pasi Lähdetie, CEO of Suomen Viljava, received a phone call from Virta.
Even though both parties have been operating in the same area for decades, there has been little cooperation. Virta's call came at a perfect time.
We had been thinking for a long time how we could unload grain wagons in Rauma. About 20 years ago, we still had a railway connection to our warehouse, but now that we no longer have it, we haven't been able to find a cost-effective solution that works for us, says Lähdetie.
Together with Janne, we went through different options on how to unload grain from hopper wagons. For example, we discussed lifting the wagons with cranes, but very quickly realized that it was not a viable option."
Euroports' private railway, which met the required dimensions, came up as the best solution. After that, the process began to proceed rapidly, but in carefully planned steps.
Suomen Viljava has extensive experience in the technology used at this unloading station and the related processing systems and equipment. We planned the facilities and grain transfer processes together, says Virta.
Suomen Viljava's operations in Rauma are based on the reception and storage of grain, as well as ship and lorry loading. The grain cargo ships head all over the world, from the Baltic Sea region all the way to Africa, Asia, and the United States.
Latest News
(Posted on 20/03/23)
Abu Dhabi based AD Ports Group, the leading facilitator of global trade, logistics, and industry, has... Read more
(Posted on 20/03/23)
Grain handling at the Port of Immingham is increasing thanks to the new opportunities presented by investment... Read more
(Posted on 07/03/23)
Marcor Stevedoring has signed a contract adding Liebherr's largest and most powerful mobile harbour... Read more
(Posted on 07/03/23)
AD Ports Group, an Abu Dhabi based leading facilitator of global trade, logistics, and industry, and... Read more
(Posted on 02/03/23)
LOGISTEC Stevedoring Inc., a subsidiary of LOGISTEC Corporation, a leading North American marine and... Read more
(Posted on 28/02/23)
End-of-year figures for total traffic in the Spanish Port of Bilbao stand at 32.7 million tonnes, up... Read more
(Posted on 24/02/23)
The Port of Sept-Îles and LOGISTEC Arrimage Inc. have announced that they have reached the impressive... Read more
(Posted on 24/02/23)
The war in Ukraine led to unprecedented changes in goods flows last year. At 467.4 million tonnes, total... Read more
(Posted on 24/02/23)
In Q3 2022, two port operating companies in Guyana – Muneshwers Ltd. and John Fernandes Ltd. &... Read more
(Posted on 20/02/23)
The Port of Trois-Rivières closed 2022 with a record number of goods handled. A total of 4.3... Read more