Ports & Logistics
(Posted on 06/11/20)
China is stockpiling every kind of commodity at a "mind-blowing" rate, with the country's imports propping up an overall fall in trade volumes globally, bulk terminal operators and shippers were told last week at a virtual conference organised by the Association of Bulk Terminal Operators (ABTO).In an introductory...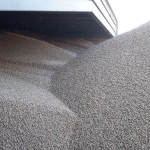 (Posted on 02/11/20)
The conversion of Amercentrale's fifth turbine will be rounded off after the summer. At that point, 90 percent of the electricity and heat produced by the Brabant power station will be generated from wood pellets. While this is a logical step forward in plant owner RWE's pursuit of its sustainability targets, it does...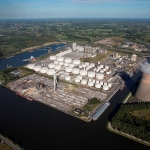 (Posted on 02/11/20)
Ten private- and public-sector partners have marked the launch of the North-C-Methanol project. Together they will reduce annually the CO2 emissions by 140,000 tons.They will also generate 44,000 tons of "green" methanol locally, which can be used as feedstock for the chemicals and renewables industries, as well as fuel...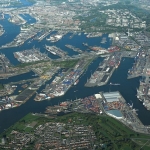 (Posted on 25/10/20)
The port of Rotterdam handled a total of 103.4 million tonnes of freight in the third quarter of 2020. Total throughput over the first nine months of the year stands at 322.3 million tonnes. This is 8.8% lower than the volume recorded in the equivalent period last year. The main throughput categories to record a decline in volumes...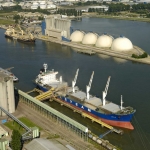 (Posted on 23/10/20)
The "Getting to Zero Coalition" was launched at the United Nations Climate Action Summit 2019 as part of a partnership between three intergovernmental organisations (the Global Maritime Forum, Friends of Ocean Action and the World Economic Forum) to combat climate change.It aims to reduce greenhouse gas (GHG) emissions...
(Posted on 23/10/20)
Middlesbrough based freight logistics specialist AV Dawson has announced it will build a new state-of-the-art head office facility at its Port of Middlesbrough site. With an estimated completion date of summer 2021, the new 24,000 sq ft office development forms part of a £10 million, 3 year masterplan recently announced for...