General cargo volumes reach 45M MT in AD Ports strong year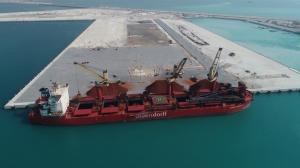 (Posted on 11/02/22)
AD Ports Group has announced its 2021 financial results based on preliminary, unaudited financials for the 12 months ended 31 December, 2021, reporting revenue growth of 14% year-on-year to AED 3.9 billion (USD 1.1 billion) compared with AED 3.4 billion (USD 933 million) in 2020, driven by volume growth, business diversification and new partnerships.
EBITDA, on a reported basis, rose to AED 1.6 billion (USD 434 million) during 2021, up from AED 1.5 billion (USD 422 million) in 2020.
Net Profit reached AED 845 million (USD 230 million) in 2021 from AED 397 million (USD 108 million) in 2020.
General cargo volumes rose to highest recorded annual levels achieved by AD Ports Group of 45 million metric tonnes in 2021, up from 30 million metric tonnes in 2020, while industrial zones leased 3.0 million sqm of land during the period, reflecting the wider economic recovery from the impact of the COVID-19 pandemic.H.E. Falah Mohammed Al Ahbabi, Chairman of AD Ports Group, said: "These excellent results demonstrate that AD Ports Group has consolidated our leadership position during a period where global trade and supply chains have experienced many challenges. Buoyed by our culture of innovation and our key strategic partnerships with global companies, we continue to deliver robust results and maintain our positive momentum. These results were possible thanks to the direction of our wise leadership and for their unwavering support for our endeavours to drive the economic growth, diversification, and industrialisation of the UAE."
Captain Mohamed Juma Al Shamsi, Group CEO, AD Ports Group, said: "AD Ports Group delivered strong growth in 2021, driven by excellent performance across our business. Our Ports and Economic Cities continue to deliver excellent returns, while the expansion of our logistics services and growth in shipping also made a significant contribution. As we continue to build the knowledge and expertise required to take our business to the next level and utilize the AED 4 billion in cash proceeds from the pre-listing issuance this month, we believe that the Group is well positioned to accelerate its local and international expansion plans in 2022 and beyond with transformational impact across a broad range of industries."
Operational highlights from 2021 included signing of a 35-year concession with CMA terminals to build a new container terminal in Khalifa Port with a total JV investment of AED 565 million (USD 154 million); strategic collaboration agreement with Turkey's sovereign wealth fund, Turkiye Varlik Fonu, to explore major investment opportunities within Turkey; and a series of agreements with the Aqaba Development Corporation to support the development of tourism, logistics, transport, and digital infrastructure within Aqaba in the Hashemite Kingdom of Jordan.
Martin Aarup, Group Chief Financial Officer, AD Ports Group, said: "At the core of these results is the stability of our long-term contract business and our prudent investment strategy. AD Ports Group benefits from our well-balanced capital structure, investment-grade credit ratings, and stable long-term cash flows. This was evidenced by 14% Revenue growth compared to 2020."
Latest News
(Posted on 26/09/23)
The Port of Rotterdam Authority and Yokogawa Electric Corporation have initiated a feasibility study... Read more
(Posted on 19/09/23)
HES Gdynia in Poland has started the construction works of a grain storage facility extension in port... Read more
(Posted on 12/09/23)
A joint Statement from the United States and the European Union has been released on support for Angola... Read more
(Posted on 08/09/23)
Associated British Ports has announced the successful renewal of a lease agreement with Breedon Group... Read more
(Posted on 04/09/23)
In North Sea Port, the transportation of goods to the hinterland by inland waterway continues to increase... Read more
(Posted on 28/08/23)
Both the tense economic situation in Europe, especially in Germany, and background geopolitical factors... Read more
(Posted on 21/08/23)
Abu Dhabi based AD Ports Group has announced its financial results for the second quarter of 2023, reporting... Read more
(Posted on 14/08/23)
SOHAR Port and Freezone in the Sultanate of Oman, has signed a land lease agreement with Sohar Noble... Read more
(Posted on 09/08/23)
CN has published its 2023-2024 Grain Plan, which builds on the operational improvements introduced this... Read more
(Posted on 02/08/23)
The Maritime Standard is delighted to announce the unveiling of the second session, titled 'Ports and... Read more