Ports & Logistics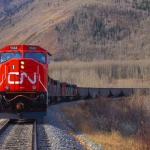 (Posted on 20/05/19)
CN, Canadian National Railway Company has announced that it has reached a tentative agreement with the Teamsters Canada Rail Conference covering approximately 180 rail traffic controllers in Canada."With this tentative agreement covering our rail traffic controllers, we are pleased to conclude another negotiation furthering...
(Posted on 20/05/19)
The Hamilton Port Authority is supporting an exciting initiative helping companies that operate in Hamilton's Bayfront Industrial Area to maximize waste heat recovery opportunities. The Port of Hamilton is the seventh largest port in Canada by volume, and the largest in Ontario.This two-year project ― spearheaded by...
(Posted on 20/05/19)
Construction work on a project to replace ageing marine navigation aids in the Port of Port Hedland has been completed, improving safety for port users and supporting plans to facilitate more trade opportunities in the Pilbara region.The Channel Marker Replacement Program (CMRP) replaced three land-based and 35 offshore structures...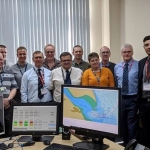 (Posted on 14/05/19)
ABP is on course to establish the Humber as a centre of excellence for Vessel Traffic Services training. The Humber Estuary is vitally important for trade in and out of the UK. Associated British Ports (ABP) at Immingham, Grimsby, Goole and Hull offer unrivalled access for vessels. With over 30,000 international shipping...
(Posted on 14/05/19)
IMO Marine Environment Protection Committee (MEPC 74), which is commencing in London, will discuss an EU proposal on the exhaust gas cleaning systems (scrubbers). The proposal, which has been submitted by the EU 28 Member States and the European Commission, aims to start the discussion at international level on the discharges from...
(Posted on 14/05/19)
Damen Shipyards Group has signed a contract with Neue Schleppdampfschiffsreederei Louis Meyer GmbH & CO. KG for the supply of an ASD Tug 2411, to be named JAN. The vessel was built for stock at Damen Shipyards Changde in China before being transported to the Netherlands. She will now undergo finishing at Damen Maaskant Shipyards...