Rotterdam stays on course in exceptional times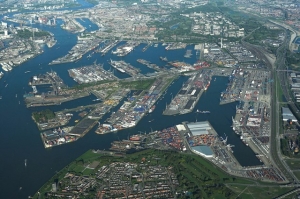 (Posted on 11/03/21)
The online publication of the Annual Report 2020 for the Port of Rotterdam Authority reveals that in a year when society at large was severely disrupted, the port of Rotterdam has confirmed its role as a reliable partner in the logistics chain by staying open 24/7. Goods volumes recovered in the second half year, limiting the decline in annual volume to 6.9% by comparison with the previous year. The financial results were better than in 2019, primarily due to one-off income items and cost savings. The net result was €351.7 million.
'The title of our annual report accurately reflects how we experienced 2020. It was a turbulent year. We were constantly looking for, and finding, solutions to a succession of new questions. Working with a large range of parties, we successfully kept the port fully operational. We are proud of that success,' said Allard Castelein CEO Port of Rotterdam Authority.
The port achieved throughput of 436.8 million tonnes in 2020, 6.9% less than in 2019. Despite the disruptive impact of the COVID-19 pandemic on the economy, production and logistics, the port of Rotterdam remained fully operational. The economic impact of the COVID-19 pandemic was the primary factor behind the decrease in volume. Throughput in Greater Rotterdam includes throughput in the terminals Hook of Holland, Dordrecht, Schiedam and Vlaardingen. In 2020, this throughput accounted for 4.1% of the total throughput volume for incoming and outgoing flows.
The throughput of dry bulk amounted to 63.8 million tonnes, 14.3% less than in 2019. Dry bulk accounts for 15% of throughput in the port of Rotterdam. Falling volumes were seen primarily in the throughput of iron ore and scrap (-24.5%) and coal (-22.8%). Incoming iron ore fell, mainly due to a major decline in German steel production. The steel factories that use the port of Rotterdam for the supply of ore are producing much less than usual. Demand for steel fell sharply from March onwards as a result of production stoppages in the automotive industry and construction. A low gas price meant that more gas and less coal was used for power production. In addition, favourable weather conditions meant that there was an increase in the available wind energy, reducing the need to switch to coal-fired power stations. The Onyx power station on the Maasvlakte was also shut down. There was a sharp increase in biomass (+108.3%) due to the continued rise in co-firing in power stations. Agricultural bulk also rose, mainly due to more imports and stockpiling.
The port of Rotterdam had a safe year for shipping. There were no very serious nautical accidents, with the number being almost unchanged from 2019.
Latest News
(Posted on 07/12/23)
US Port owners should start immediate planning to take advantage of the $3bn available in grants as... Read more
(Posted on 07/12/23)
The Vancouver Fraser Port Authority's board of directors has announced that it has appointed Peter... Read more
(Posted on 03/12/23)
In the presence of Kassym-Jomart Tokayev, President of the Republic of Kazakhstan, AD Ports Group, a... Read more
(Posted on 03/12/23)
Lhyfe, a global pioneer in the production of renewable green hydrogen for transportation and industrial... Read more
(Posted on 26/11/23)
A 194 million euro investment in North Sea Port will secure large-scale CO2 reduction by the largest... Read more
(Posted on 17/11/23)
The Central Association of German Seaport Operators (ZDS) has called for a decisive German port policy... Read more
(Posted on 13/11/23)
A groundbreaking feasibility study has highlighted the potential for using clean ammonia to refuel ships... Read more
(Posted on 05/11/23)
IAPH has announced the ratification by the IAPH Council of the new IAPH Board. The Board is formed by... Read more
(Posted on 05/11/23)
CN has announced that it acquired from Genesee & Wyoming Inc., a stake in the Cape Breton &... Read more
(Posted on 31/10/23)
Due to continued very high inflation, the Hamburg Port Authority (HPA) will raise port fees by an average... Read more