Happy St Patrick's Day from Dunkirk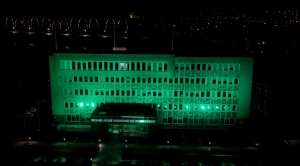 (Posted on 17/03/21)
Several sites and facilities in Dunkerque light up in green to celebrate the grand Irish national holiday of St. Patrick's Day and the 10,000 freight units transported since January 2021 via the Dunkerque-Rosslare line (Ireland).
Invited to do so by the Irish Embassy, Dunkerque is celebrating Saint Patrick's Day on March 17 by taking part in the Global Greening, a joint initiative of Tourism Ireland, the national agency responsible for promoting tourism in Ireland, and the Irish Foreign Office. The initiative, which celebrates its 12th anniversary this year, involves lighting up major buildings in green all around the world to celebrate Ireland's National Holiday. Adding to a long list of sites around the world, Dunkerque's Town Hall, Belfry and Leughenaer Tower, as well as the three-masted Duchesse Anne and the Port Museum, Dunkerque-Port and the Irish-owned Ecocem plant have all lit up green this week to commemorate the event.
The Greening of Dunkerque and its port has a very special meaning given the high growth in shipping links between Ireland and France and the strengthening of the ties between these two countries. Especially since the milestone of 10,000 freight units was reached in early March between the port of Dunkerque and that of Rosslare. A remarkable performance in a post-Brexit context also marked by the health crisis.
For Daniel Deschodt, Interim Chair of Dunkerque-Port: "This celebration of Saint Patrick's Day and the arrival of the 10,000th unit on the Dunkerque-Rosslare line certainly mark a new stage in our already close relations with the country. I should like to thank Her Excellency the Ambassador of Ireland in Paris for having invited Dunkerque-Port to join in the Saint-Patrick's Day celebrations. I should also like to thank Patrice Vergriete, Chair of the Metropolitan Authority and Mayor of Dunkerque for being involved in this initiative, which is as original as it is symbolic, and to thank the CEO of Ecocem for his enthusiasm in participating in this high point".
Latest News
(Posted on 20/03/23)
Abu Dhabi based AD Ports Group, the leading facilitator of global trade, logistics, and industry, has... Read more
(Posted on 20/03/23)
Grain handling at the Port of Immingham is increasing thanks to the new opportunities presented by investment... Read more
(Posted on 07/03/23)
Marcor Stevedoring has signed a contract adding Liebherr's largest and most powerful mobile harbour... Read more
(Posted on 07/03/23)
AD Ports Group, an Abu Dhabi based leading facilitator of global trade, logistics, and industry, and... Read more
(Posted on 02/03/23)
LOGISTEC Stevedoring Inc., a subsidiary of LOGISTEC Corporation, a leading North American marine and... Read more
(Posted on 28/02/23)
End-of-year figures for total traffic in the Spanish Port of Bilbao stand at 32.7 million tonnes, up... Read more
(Posted on 24/02/23)
The Port of Sept-Îles and LOGISTEC Arrimage Inc. have announced that they have reached the impressive... Read more
(Posted on 24/02/23)
The war in Ukraine led to unprecedented changes in goods flows last year. At 467.4 million tonnes, total... Read more
(Posted on 24/02/23)
In Q3 2022, two port operating companies in Guyana – Muneshwers Ltd. and John Fernandes Ltd. &... Read more
(Posted on 20/02/23)
The Port of Trois-Rivières closed 2022 with a record number of goods handled. A total of 4.3... Read more