Ports & Logistics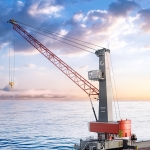 (Posted on 24/02/23)
In Q3 2022, two port operating companies in Guyana – Muneshwers Ltd. and John Fernandes Ltd. – made a joint order for two Generation 6 Konecranes Gottwald Mobile Harbour Cranes to build up cargo handling terminals in the capital Georgetown. When the cranes arrive in Q2 2023 they will be the very first mobile harbour...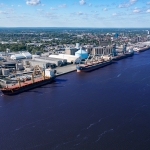 (Posted on 20/02/23)
The Port of Trois-Rivières closed 2022 with a record number of goods handled. A total of 4.3 million metric tonnes (MMT) of cargo transited through the Port, surpassing the 2019 record of 4.2 MMT and compared with 2021, this represents a 10% increase in Port activity.All types of traffic contributed to this increase. Indeed...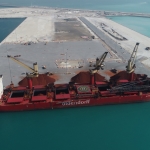 (Posted on 20/02/23)
AD Ports Group a global premier facilitator of logistics, industry and trade, has announced its financial results for the 12 months ended December 31, 2022, reporting strong operational and financial performance, with revenue growth of 41% year-on-year to AED 5.5 billion (+23% year-on-year to AED 4.8 billion organically).The Group...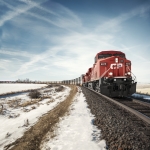 (Posted on 13/02/23)
Canadian Pacific moved 2.29 million metric tonnes of Canadian grain and grain products in January 2023, setting a new record for the month. CP has moved more than 15 MMT of Canadian grain and grain products thus far in the 2022-2023 crop year, exceeding the amount shipped by this time in the 2021-2022 crop year by more than 45 percent...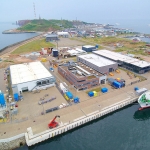 (Posted on 08/02/23)
The municipality of Helgoland has commissioned Hamburg Port Consulting (HPC) to carry out a concept study for the construction of a hydrogen bunker station on the deep-sea island. The study will require HPC to investigate the commercial and infrastructural suitability of the island as a potential location for H2 fuel supply for...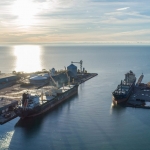 (Posted on 06/02/23)
At the conclusion of the 2022 shipping season, Hamilton-Oshawa Port Authority (HOPA) in Canada saw a total of 10,366,810 metric tonnes (MT) of cargo transiting the ports of Hamilton and Oshawa combined. A total of 628 vessels visited its two ports during the 2022 season, 569 in Hamilton and 59 in Oshawa.In 2022, 9.8 million MT transited...