Ports & Logistics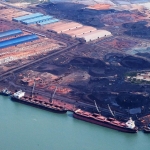 (Posted on 06/04/21)
Adani Ports and Special Economic Zone Ltd. (APSEZ), India's largest private Ports & Logistics company and the flagship transportation arm of the diversified Adani Group, has announced the acquisition of the residual 25% stake in Adani Krishnapatnam Port Ltd., (Krishnapatnam Port) for Rs. 2,800 cr. This will result...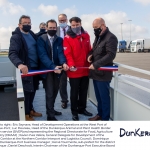 (Posted on 06/04/21)
Daniel Deschodt, Interim Chairman of the Executive Board of Dunkerque-Port, has officially handed over the keys of the new Single Border Checkpoint (PCUF) to Xavier-Yves Valère, General Delegate for Development of the Northern Corridor with the Interport and Logistics Council for the Northern Corridor. The ceremony took place...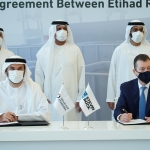 (Posted on 01/04/21)
His Highness Sheikh Saud bin Saqr Al Qasimi, UAE Supreme Council Member and Ruler of Ras Al Khaimah, was present at the signing of an agreement between Etihad Rail, the developer of the UAE's National Rail Network, and Ras Al Khaimah's Stevin Rock, one of the largest quarrying companies in the world. Under the terms...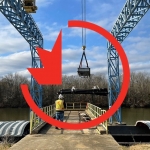 (Posted on 31/03/21)
Federal Marine Terminals, Inc. (FMT) has signed an operating agreement with Port Itawamba, increasing its presence in the Southern region of the USA within this vital inland waterway system.The facility, located in Northern Mississippi on the Tennessee-Tombigbee Waterway, covers an impressive reach, including destinations along...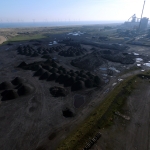 (Posted on 28/03/21)
Two of the UK's leading waste to energy companies – Low Carbon Ltd and PMAC Energy – have announced that planning consent has been granted for a new £300 million pound state-of-the-art waste to energy centre on the site of the former Corus Steel works.The Redcar Energy Centre – which is set for completion...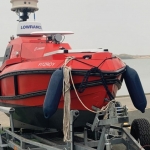 (Posted on 28/03/21)
Peel Ports is the first Port group in the United Kingdom to take delivery of an autonomous unmanned survey vessel, which completed its first successful trial at Crosby Marine Lake, North of Liverpool last week.Peel Ports offered Sefton Council the first trial of FITZROY's services which provided hydrographic charts of Crosby...