Investment in Wisconsin ports to expand global markets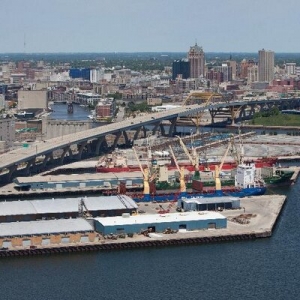 (Posted on 15/09/22)
The annual gathering of the Wisconsin Commercial Ports Association has taken place near the mouth of Green Bay at the REC Center in Marinette. The meeting will include presentations from local, state, and federal experts emphasizing the economic significance and environmental stewardship of Wisconsin's commercial ports.
"We are proud to serve as host and meeting sponsor of Wisconsin Ports," said Steve Genisot, Mayor of Marinette. "Increased utilization of Wisconsin's commercial ports supports economic development, investment and job creation across Wisconsin and certainly for shipbuilding in our own community."
In May 2022, the City of Marinette joined Wisconsin Governor Tony Evers in announcing public financial support for continued expansion at Fincantieri Marinette Marine ("FMM"). FMM is currently under contract with the U.S. Navy to build guided-missile frigates. If fully exercised, the approximate value of the contract is $5.5 billion.
"Opportunities for Wisconsin's ports to expand and reach new global markets continue to emerge. Ongoing state and federal partnerships are integral for needed development," said Adam Tindall-Schlicht, Director of Port Milwaukee and President of the WCPA. "The recent federal infrastructure law and Inflation Reduction Act will help upgrade port facilities and equipment, improve operations, and make needed long-term harbor investments to help grow Wisconsin's economy for decades ahead."
Port Milwaukee is currently constructing a $35+ million-dollar agricultural maritime export facility in partnership with the Clinton, Wisconsin-based DeLong Company, Inc. Construction of the new terminal, which will be one of the first on the Great Lakes-St. Lawrence Seaway system to move Wisconsin agricultural exports through multimodal transportation, has received funding from the State of Wisconsin Department of Transportation Harbor Assistance Program and the U.S. Department of Transportation Port Infrastructure Development Program.
"Like Wisconsin's overall economy, our ports are in a strong fiscal position, though growth must be continuous," said Marty Olejniczak, Community Development Director at the Port of Sturgeon Bay and Vice-President of the WCPA. "Wisconsin's ports are calling for bipartisan support in Madison to supplement the HAP with funds from the State's budgetary surplus. Doing so will allow Wisconsin's ports to fully address historic preventative maintenance backlogs across Lake Michigan, Lake Superior, and the Mississippi River for the first time in a generation."
As part of its meeting each year, the WCPA selects a local organization to receive an endowment given its role in supporting Wisconsin's maritime legacy. The WCPA's 2022 donation will be presented to the Door County Maritime Museum, which works to preserve Wisconsin's maritime history through education. The Museum operates in Sturgeon Bay, Baileys Harbor and Gills Rock.
Surrounded by Lake Michigan, Lake Superior and the Mississippi River, Wisconsin is essential to maritime transportation in the United States. Wisconsin's ports contribute to the state's economy and enhance the wellbeing and quality of life of the state's waterfront communities. The mission of Wisconsin Ports is to promote and grow the maritime economy of the entire state. The WCPA serves as the public voice, organizational advocate and go-to resource on the importance of Wisconsin's port industry.
Latest News
(Posted on 31/03/23)
The Port of Long Beach and the Los Angeles/Orange Counties Building and Construction Trades Council... Read more
(Posted on 28/03/23)
Canadian Pacific has said that, on 14 April, 2023, it will exercise the authority granted by the U.S... Read more
(Posted on 24/03/23)
LOGISTEC Corporation, a leading marine and environmental services provider, has announced its financial... Read more
(Posted on 24/03/23)
Terence Bowles, President and CEO of the St. Lawrence Seaway Management Corporation (SLSMC), and Adam... Read more
(Posted on 20/03/23)
Abu Dhabi based AD Ports Group, the leading facilitator of global trade, logistics, and industry, has... Read more
(Posted on 20/03/23)
Grain handling at the Port of Immingham is increasing thanks to the new opportunities presented by investment... Read more
(Posted on 07/03/23)
Marcor Stevedoring has signed a contract adding Liebherr's largest and most powerful mobile harbour... Read more
(Posted on 07/03/23)
AD Ports Group, an Abu Dhabi based leading facilitator of global trade, logistics, and industry, and... Read more
(Posted on 02/03/23)
LOGISTEC Stevedoring Inc., a subsidiary of LOGISTEC Corporation, a leading North American marine and... Read more
(Posted on 28/02/23)
End-of-year figures for total traffic in the Spanish Port of Bilbao stand at 32.7 million tonnes, up... Read more