Trois-Rivières demonstrates strength and agility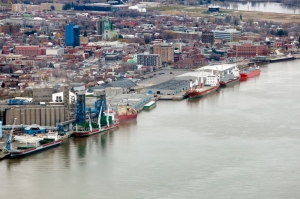 (Posted on 31/05/22)
The Trois-Rivières Port Authority (TRPA) has held its annual general assembly, which was an opportunity to review the results for 2021 and to highlight the exceptional contribution of the Trois-Rivières port community. During the past year, the Port welcomed 217 vessels and recorded cargo traffic of 3.9 million metric tonnes (MT), bringing its net profit to $3.88 million.
"The Port of Trois-Rivières community has once again demonstrated its strength and agility over the past year. While the pandemic continued to affect many sectors of activity, cargo traffic at the Port of Trois-Rivières increased by 20% over the previous year. This once again confirms the importance of marine transportation and the intermodal platform that our port provides to the local, regional, and national economy," said Gaétan Boivin, President and CEO of the Port of Trois-Rivières
Mr. Boivin also took the opportunity to thank the handlers: G3 Canada, Groupe Somavrac, Logistec and QSL, the stevedores and all the workers of the Port, as well as the customers and numerous collaborators, who make up the port community with whom, on a daily basis, the organization shares common objectives related to sustainable development, optimization, improvement and innovation.
In addition to the Terminal 21 project, which continued to move forward with the announcement of the Quebec government's financial contribution through the Advantage St. Lawrence initiative and the holding of public consultations by the Impact Assessment Agency of Canada, the road corridor project adapted to the passage of oversized parts was announced. With financial support from Canada Economic Development, this corridor will link the industrial port area and the Port to allow industries specializing in the manufacture of very large parts to take advantage of port facilities to reach the global market, while reducing greenhouse gases.
Sustainable development and innovation also played a major role in 2021, with actions and projects carried out in both areas. The Port contributed to the advancement of more than 25 research and innovation projects and ten initiatives in the social, environmental and economic spheres are highlighted in the annual report.
"Our On Course for 2030 plan is continuing and we can see how it is an essential development tool to meet the import and export needs of local and regional businesses," said Danielle St Amand, Chair of the Board of Directors.
The Port of Trois-Rivières is certainly an engine of our economy, but it is also a partner on which local and regional organizations can count. In 2021, 38 of them received financial or volunteer support from the organization to help them carry out their mission.
Finally, it should be noted that in 2022, the Port of Trois-Rivières celebrates its 140th anniversary. A diversified program will be offered to clients and partners, as well as local organizations and the general public.
Latest News
(Posted on 31/03/23)
The Port of Long Beach and the Los Angeles/Orange Counties Building and Construction Trades Council... Read more
(Posted on 28/03/23)
Canadian Pacific has said that, on 14 April, 2023, it will exercise the authority granted by the U.S... Read more
(Posted on 24/03/23)
LOGISTEC Corporation, a leading marine and environmental services provider, has announced its financial... Read more
(Posted on 24/03/23)
Terence Bowles, President and CEO of the St. Lawrence Seaway Management Corporation (SLSMC), and Adam... Read more
(Posted on 20/03/23)
Abu Dhabi based AD Ports Group, the leading facilitator of global trade, logistics, and industry, has... Read more
(Posted on 20/03/23)
Grain handling at the Port of Immingham is increasing thanks to the new opportunities presented by investment... Read more
(Posted on 07/03/23)
Marcor Stevedoring has signed a contract adding Liebherr's largest and most powerful mobile harbour... Read more
(Posted on 07/03/23)
AD Ports Group, an Abu Dhabi based leading facilitator of global trade, logistics, and industry, and... Read more
(Posted on 02/03/23)
LOGISTEC Stevedoring Inc., a subsidiary of LOGISTEC Corporation, a leading North American marine and... Read more
(Posted on 28/02/23)
End-of-year figures for total traffic in the Spanish Port of Bilbao stand at 32.7 million tonnes, up... Read more