Rail gateways outline pro-competitive combination benefits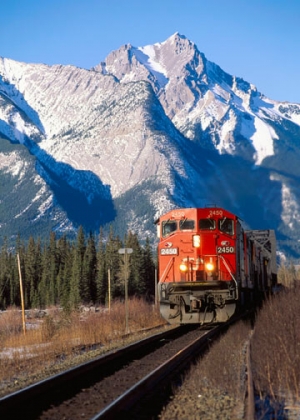 (Posted on 11/07/21)
CN and Kansas City Southern have outlined how the proposed combination of CN and KCS will preserve and promote competition, growth and more choice for rail customers, port operators, employees, stakeholders and communities.
As outlined in the joint filing to the Surface Transportation Board ("STB") on July 6, 2021, CN and KCS will enhance competition by:
Delivering more choices to our rail customers: The combination allows shippers the ability to connect with other Class I carriers up and down the combined network so that a shipper can use the most efficient and lowest cost gateway and routing options available for a particular move. The combined network will connect with partner Class Is at numerous major gateways, providing unprecedented choice, resiliency and flexibility. More choice tilts negotiations in the customer's favour. The proposed CN-KCS combination makes that possible.
Keeping gateways open on commercially reasonable terms: CN and KCS are committed to keeping CN and KCS major rail gateways open both physically and commercially. This means, for example, that agricultural customers, including farmer-owned co-operatives enjoying existing competitive joint line routings through gateways with CN or KCS and another carrier, will continue to have those routings available upon completion of the merger. Everyone benefits from this commitment. Customers will continue to enjoy the interline service they have today, along with new, enhanced rail-to-rail competition that the combination would make possible. And by creating more optionality through major gateways, we will offer customers a new ability to shop for the best price and service combination.
Using confidential, voluntary, binding arbitration to enforce the gateway commitment: CN and KCS will offer voluntary, confidential, binding arbitration to permit quick resolution of any commercial dispute over the gateway commitment with our customers.
Creating greater price transparency: We are talking with our customers about a binding merger commitment in which, upon request from a customer, a combined CN-KCS will offer a separate segment rate for the CN-KCS portion of a movement, in addition to a through rate for the entire movement. This commitment to price transparency will enhance competition throughout the rail industry. With more transparency, each carrier in a move will need to justify its price, escalation and service, which will foster greater rail-to-rail competition.
In an op-ed published by Railway Age on June 22nd, Dr. William Huneke, the former Director of the Office of Economics and Chief Economist at STB described CN's open gateways commitment as a "big deal," stating:
"This commitment ensures that shippers who today enjoy competitive joint line routings with either CN or KCS will continue to have those routings available to them in a post CN/KCS merger environment, even if a merged CN/KCS could handle the entire movement via a single-line routing."
"This means continued competition, and we know that competition encourages lower rates, better service and innovation."
"The commitment is not just about maintaining physical routings, but also about ensuring that the routings are commercially reasonable to the shipper. What is meant by 'open on commercially reasonable terms'? This means all market participants, railroads and shippers will benefit: They will get a fair chance to compete. They will pay and receive remunerative rates and get efficient service. If a shipper is not happy with their service, they can switch to another carrier because they will still have a choice."
"A CN/KCS combination will create a strong new rail-to-rail competitor that will provide new single-line rail movements in competition with other rail carriers. In addition, with the gateway commitment, shippers will also have the option to use an existing routing or other routings involving more than just the merged CN/KCS."
The CN-KCS combination will create a more competitive marketplace that will attract more freight to rail and will expand North American trade and power economic prosperity, provide numerous new connections and service options for customers, as well as deliver many compelling and innovative benefits for ports, employees and communities.
Latest News
(Posted on 07/12/23)
US Port owners should start immediate planning to take advantage of the $3bn available in grants as... Read more
(Posted on 07/12/23)
The Vancouver Fraser Port Authority's board of directors has announced that it has appointed Peter... Read more
(Posted on 03/12/23)
In the presence of Kassym-Jomart Tokayev, President of the Republic of Kazakhstan, AD Ports Group, a... Read more
(Posted on 03/12/23)
Lhyfe, a global pioneer in the production of renewable green hydrogen for transportation and industrial... Read more
(Posted on 26/11/23)
A 194 million euro investment in North Sea Port will secure large-scale CO2 reduction by the largest... Read more
(Posted on 17/11/23)
The Central Association of German Seaport Operators (ZDS) has called for a decisive German port policy... Read more
(Posted on 13/11/23)
A groundbreaking feasibility study has highlighted the potential for using clean ammonia to refuel ships... Read more
(Posted on 05/11/23)
IAPH has announced the ratification by the IAPH Council of the new IAPH Board. The Board is formed by... Read more
(Posted on 05/11/23)
CN has announced that it acquired from Genesee & Wyoming Inc., a stake in the Cape Breton &... Read more
(Posted on 31/10/23)
Due to continued very high inflation, the Hamburg Port Authority (HPA) will raise port fees by an average... Read more