Eurochem and UWC agree hopper cars deal for mineral fertilizers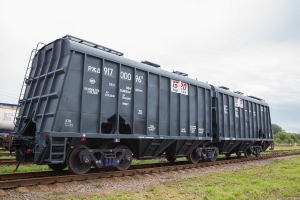 (Posted on 05/07/21)
EuroChem and Research and production Corporation, United Wagon Company, Russia's largest manufacturer of freight cars , signed a contract for the supply of 2,000 new generation hopper cars for mineral fertilizers.
The document was signed by Vladimir Rashevsky, Senior Executive Director, Chairman of the Management Board and CEO of EuroChem MCC, and Timofey Khryapov, CEO of UWC.
The contract reaffirms and strengthens the long-standing partnership between the two companies. All agreements thereunder are set to be fully implemented by June 2022, with the complete batch of railcars to be dispatched to the customer by that time. The hopper cars for mineral fertilizers will be operated within the fleet of National Transportation Company (NTC), a provider of transport and logistics services to EuroChem MCC.
The 19-9835-01 hopper car features advanced technical and economic performance. It can carry a wide range of mineral fertilizers owing to its increased load capacity of 76.7 t and a body volume of 101 m3. The railcar design provides for lower impact on the rail track and meets high environmental standards.
As a result of using new generation railcars and the increased weight of the trains, the annual reduction in electricity consumption in the traction power supply system on the Ural - North-West ports line will exceed 1.5 MWh, and greenhouse gas emissions will be reduced by almost 800 tonnes of CO2 compared to 2019-2020. The use of railcars with increased load capacity will reduce the energy intensity of rail transport on such routes by at least 5%.
It should be noted that EuroChem MCC takes systematic effort to reduce its impact on the environment and increase energy efficiency, based on the principles of rational use of resources and compliance with Russian environmental laws and the company's voluntary commitments. Introducing innovative technologies is one of the measures to achieve these goals. The core objectives include reducing the number of repairs, while improving their quality, applying the best available technologies, and reducing electricity consumption.
United Wagon Company has established an extensive service network responsible for warranty and post-warranty maintenance of railcars to minimize downtime for repairs, monitor their technical condition and ensure that only original components are used. The parties agreed on the terms of maintenance service for the purchased railcars as part of the signed contract.
EuroChem Mineral and Chemical Company, JSC manages the Russian assets of EuroChem Group AG, one of the world's leading producers of nitrogen, phosphate and potash fertilizers. The company's operations include mining and the production, as well as distribution of fertilizers.
Latest News
(Posted on 07/12/23)
US Port owners should start immediate planning to take advantage of the $3bn available in grants as... Read more
(Posted on 07/12/23)
The Vancouver Fraser Port Authority's board of directors has announced that it has appointed Peter... Read more
(Posted on 03/12/23)
In the presence of Kassym-Jomart Tokayev, President of the Republic of Kazakhstan, AD Ports Group, a... Read more
(Posted on 03/12/23)
Lhyfe, a global pioneer in the production of renewable green hydrogen for transportation and industrial... Read more
(Posted on 26/11/23)
A 194 million euro investment in North Sea Port will secure large-scale CO2 reduction by the largest... Read more
(Posted on 17/11/23)
The Central Association of German Seaport Operators (ZDS) has called for a decisive German port policy... Read more
(Posted on 13/11/23)
A groundbreaking feasibility study has highlighted the potential for using clean ammonia to refuel ships... Read more
(Posted on 05/11/23)
IAPH has announced the ratification by the IAPH Council of the new IAPH Board. The Board is formed by... Read more
(Posted on 05/11/23)
CN has announced that it acquired from Genesee & Wyoming Inc., a stake in the Cape Breton &... Read more
(Posted on 31/10/23)
Due to continued very high inflation, the Hamburg Port Authority (HPA) will raise port fees by an average... Read more