First MHC for Townsville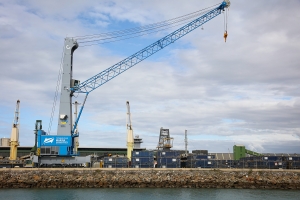 (Posted on 03/09/19)
Townsville Marine Logistics Pty Ltd, on the
north-eastern coast of Australia, has received an electric
Konecranes Gottwald Model 6 Mobile Harbour Crane. The crane
is the backbone of the company's bulk and container
operations.
Founded in 2018, Townsville Marine Logistics is a stevedoring
company located in Townsville, a medium-sized town on the North
Queensland coast. It is a subsidiary of Korea Zinc, an international
leader in smelting, and their primary customer is a sister organization,
Sun Metals Refinery. Recent growth in mining created greater demand
for cargo handling in the region, and they needed efficient, reliable,
and high-performance port equipment to help them build a stronger
"We are thrilled to partner with Konecranes on the purchase of our
first mobile harbour crane in Townsville," says Damien Scott, Operations
Manager. "Under a tight schedule, it was good to see commissioning
completed swiftly and professionally. We're now in the training and
familiarization phase, and are confident we'll soon achieve best practice
productivity with our new Model 6 crane. We are already planning for a
second one."
The Port of Townsville is the largest cargo port in Northern Australia. Imports include essential everyday goods such as fuel, furniture, electrical goods, cement and bitumen. North Queensland farmers export agricultural products, and mining company's need the Townsville port to export minerals.
Located 1,360 kilometres north of Brisbane on the east coast of Queensland, the Port of Townsville's 8 berths handled nearly $8 billion in trade during the 2016-17 financial year.
Townsville is the number one exporter in Australia of copper, zinc, lead and sugar and with its close locality to Asian markets, it is ideally placed to service a growing economy.
The new crane is a Konecranes Gottwald Model 6 Mobile Harbour
Crane in the two-rope variant G HMK 6507, with a maximum capacity
of 125 tons. It features several smart crane features, including a landside lowering function,
which reduces noise and the possibility of damage to the spreader, containers and wharf.
It has built-in preparedness to use power from the port's grid in the future for more
eco-efficient operation. This will reduce the crane's energy
consumption and eliminate local exhaust emissions. This fulfills the
strict environmental requirements of both Townsville Marine Logistics
and the trade association Ports Australia.
Latest News
(Posted on 23/01/23)
In the presence of the UAE President His Highness Sheikh Mohamed bin Zayed Al Nahyan, and the President... Read more
(Posted on 16/01/23)
The Port of South Louisiana (Port SL) CEO Paul Matthews, has announced that it has entered into a Purchase... Read more
(Posted on 16/01/23)
With 73.6 million tons of cargo transhipment from maritime shipping (+7%) and 64.5 million tons from... Read more
(Posted on 12/01/23)
Despite unfavourable economic conditions, traffic in the port of Dunkerque, the third largest port in... Read more
(Posted on 10/01/23)
North Sea Port CEO Daan Schalck has been looking back as well as forward. 2022, was a year in which... Read more
(Posted on 10/01/23)
A multi-million-pound deal has been agreed to build a new road salt storage facility to support Scotland... Read more
(Posted on 10/01/23)
Ports Minister Rita Saffioti has announced Samuel McSkimming as the new CEO of the Pilbara Ports Authority... Read more
(Posted on 04/01/23)
AD Ports Group has delivered on its commitment to produce remarkable results and extend its international... Read more
(Posted on 23/12/22)
A new industrial property has been added to the Thorold Multimodal Hub in Canada, a growing industrial... Read more
(Posted on 20/12/22)
The Department of Transport and Main Roads (DTMR) in Australia is undertaking public consultation on... Read more