ZHD selects Bobcat to clear holds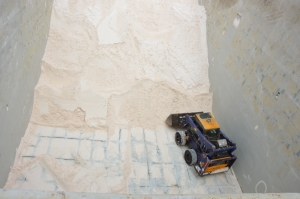 (Posted on 16/03/20)
For almost 51 years, stevedoring company, ZHD Stevedores, based in Dordrecht in the Netherlands, has been using Bobcat skid-steer loaders to clear the holds of ships and to move material around so that the grabs on the large unloading cranes on the dockside are kept busy. This way of working was introduced to be able to unload or load a ship as quickly as possible so that it can sail again, as idle time costs money in shipping. Any part of the load that remains out of reach of the grabs on the cranes is collected and removed by the Bobcat loaders using hydraulic sweeper attachments.
The Bobcat skid-steer loaders for this work including the new S770 models that ZHD Stevedores has just purchased, have to undergo many modifications before they are delivered to the company. This work is carried out by Inter-Techno, the Dutch importer for the Bobcat range for more than 40 years and Inter-Techno describes this as creating a 'port edition' of the skid-steer loader, after special modifications are implemented in the company's workshop in Apeldoorn in the Netherlands. This special edition machine was developed jointly with ZHD Stevedores.
ZHD Stevedores is a family business that provides stevedoring services for a large number of clients in Dordrecht and at three locations on the Moerdijk industrial park. A number of important customers are located on the ZHD site, where they carry out production processes with materials that enter via the port. ZHD takes care of the storage and transfer of the materials for them. This can vary from steel rolls and scrap to bulk materials such as coal, iron ore, slag sand, pebbles, gravel, sand, sugar, salt and basically anything that can be loaded and unloaded with a grab.
To meet this demand, ZHD Stevedores has more than 100 grapples at its disposal. Over the years, ZHD has invested heavily in flexible mobile and floating cranes with a high capacity to optimally serve its customers in Moerdijk, Dordrecht and Rotterdam. The showpiece machines include a self-built 50-tonne self-propelled floating crane (gripper company, general cargo 100T), a 170-tonne hydraulic tyre crane and another two self-propelled 25-tonne floating cranes (40T general cargo) in Antwerp, Belgium. The floating cranes are used to load big sea-going vessels including the largest Capesize ships or to transfer their cargo to inland vessels and coasters.
The method of discharging ships using skid-steer loaders has been around since the 1960s. It proved to be the most flexible solution. The circumstances and the materials involved make it impossible to use other methods such as conveyor belts or suction systems. Initially, Bobcat skid-steer loaders were almost always used for this work at ZHD, with the exception of the period between 2000 and 2009.
"When new skid-steer loaders had to be ordered in 2008, our operators were able to try out a new Bobcat S330 model with air conditioning. This worked much better than the skid-steer loaders of another brand that were in use at that time. At the request of the operators, ZHD Stevedores switched back to Bobcat skid-steer loaders in 2009," said Jan Elferink, material management manager at ZHD Stevedores.
Latest News
(Posted on 02/06/23)
Vancouver Fraser Port Authority CEO Robin Silvester has announced that he will be leaving the port authority... Read more
(Posted on 31/05/23)
AD Ports Group , the Abu Dhabi based leading facilitator of global trade, logistics and industry, has... Read more
(Posted on 31/05/23)
The World Port Climate Action Program (WPCAP) will be extended with a new focus on shore power, new... Read more
(Posted on 30/05/23)
Ships sailing from the North Sea via the Westerschelde to unload dry bulk goods at OVET's quay in Vlissingen... Read more
(Posted on 23/05/23)
The problematic trend in the world economy is affecting Port of Hamburg throughput figures. As in other... Read more
(Posted on 23/05/23)
A senior delegation from United Arab Emirates (UAE) visited Karachi and met with H.E. Faisal Sabzwari... Read more
(Posted on 16/05/23)
Two new electric harbour cranes, representing an £8.6 million investment, are the latest arrivals... Read more
(Posted on 14/05/23)
At a ceremony held during the transport logistic trade fair in Munich, Algis Latakas, General Director... Read more
(Posted on 08/05/23)
Associated British Ports (ABP's) Port of Ipswich, the UK's leading grain export port, has... Read more
(Posted on 02/05/23)
AD Ports Group, the Abu Dhabi based leading facilitator of global trade, logistics and industry, has... Read more