Port of Tyne appoints logistics expert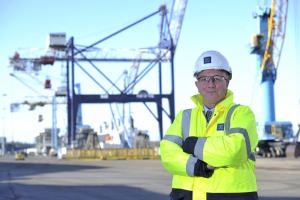 (Posted on 14/02/20)
Mel Brockhouse has joined the Port of Tyne as its Chief Operating Officer. In his new role, Mel will be responsible for the Port's operational activity, including engineering, infrastructure, rail-freight, transport and warehousing.
Originally from Birmingham, Mel has over 30 years' experience in global logistics strategy and operations. He joins the Port from NFT, an international logistics group and subsidiary of EV Cargo, where he was Managing Director of Operations from 2018.
Previously, Mel worked for DHL for 33 years, most recently as its Vice President of Operations. At DHL, he was responsible for the group's largest commercial accounts in the UK and Ireland, managing a team of 7,000, with an annual turnover of £350m, Mel led the business's transformation in operational efficiency and innovation.
Matt Beeton, Port of Tyne's Chief Executive Officer, said: "I'm absolutely delighted to welcome Mel to the team. He brings substantial knowledge of the global logistics industry and will play a significant role in helping us to achieve the goals in our Tyne 2050 strategy."
"This is a fantastic new challenge. I'm really excited about working in the North East and helping the Port of Tyne to achieve its vision. The Port has excellent growth potential as the Gateway to the North and I'm looking forward to working with Matt and the team," said Mel.
Port of Tyne is one of the UK's major deep-sea ports, operating in bulks, break bulk, offshore, rail-freight, automotive, cruise and ferry, logistics, and estates
One of the UK's largest Trust Port's, the Port of Tyne is entirely self-financing it receives no Government funding, is run on a commercial basis and reinvests all profits back into the Port for the benefit of all of its stakeholders, who are customers, employees, business, Government and community.
During a decade of development, the Port of Tyne has invested over £130 million in diversifying its operations to handle a growing range of commodities.
Latest News
(Posted on 26/09/23)
The Port of Rotterdam Authority and Yokogawa Electric Corporation have initiated a feasibility study... Read more
(Posted on 19/09/23)
HES Gdynia in Poland has started the construction works of a grain storage facility extension in port... Read more
(Posted on 12/09/23)
A joint Statement from the United States and the European Union has been released on support for Angola... Read more
(Posted on 08/09/23)
Associated British Ports has announced the successful renewal of a lease agreement with Breedon Group... Read more
(Posted on 04/09/23)
In North Sea Port, the transportation of goods to the hinterland by inland waterway continues to increase... Read more
(Posted on 28/08/23)
Both the tense economic situation in Europe, especially in Germany, and background geopolitical factors... Read more
(Posted on 21/08/23)
Abu Dhabi based AD Ports Group has announced its financial results for the second quarter of 2023, reporting... Read more
(Posted on 14/08/23)
SOHAR Port and Freezone in the Sultanate of Oman, has signed a land lease agreement with Sohar Noble... Read more
(Posted on 09/08/23)
CN has published its 2023-2024 Grain Plan, which builds on the operational improvements introduced this... Read more
(Posted on 02/08/23)
The Maritime Standard is delighted to announce the unveiling of the second session, titled 'Ports and... Read more