Record year for Trois-Rivières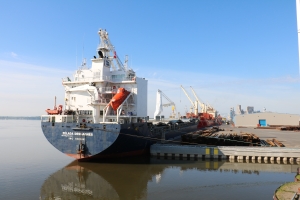 (Posted on 13/02/20)
The Port of Trois-Rivières, Canada, ended 2019 with a new record for goods handled. A total of 4.2 million metric tonnes (MMT)
transited through the Port, surpassing by 10% the record of 3.8 MTM in 2018.
Solid bulk traffic increased from 3.2 to 3.6 MMT. Liquid bulk remained stable at 0.3 MMT, which
is comparable to the average for the past five years for this industry. General cargo also
remained stable at 0.3 MMT, representing an increase of 36% compared to the average for the
past five years. A total of 260 vessels docked at the Port, including 25 cruise ships.
"We owe this second consecutive record year to our partners, users, workers and customers. It
is through their efforts to optimize operations and increase productivity that we can achieve
such results. We would like to thank them", said Mr. Gaétan Boivin, President and CEO of the
Port of Trois-Rivières.
Mr. Boivin also wanted to emphasize that this handling record was attained in the context of the
massive hiring of longshoremen over the past two years, which brought challenges in terms of
training and knowledge transfer.
2019 was marked by the implementation of several projects stemming from the On Course for
2030 development plan.
Last February, the Port launched two innovation and environmental investment funds. For the
next five years, $ 2.5 million, or $ 250,000 per Fund per year, will be made available to port facility
users and clients. Through this initiative, the Port supports its partners so they may carry out and
even anticipate the realization of projects which, in the long term, will make the Port more
competitive and improve its environmental performance, in addition to stimulating regional
economic activity.
"The environment and innovation are cornerstones of the On Course for 2030 development plan.
With these funds, we are introducing concrete means to support our users and customers in the
implementation of profitable projects at the Port and throughout the community", added Mr. Boivin.
A partnership was also signed in April with the Ports of Mulhouse-Rhin with the aim of sharing
good operational and business development practices, thereby increasing opportunities for all
participants. More specifically, four areas of cooperation were recognized: port governance,
commercial promotion, sharing of innovation and continental outreach. This agreement is part of
the close collaboration approach initiated by Innovation et Développement économique TroisRivières
and Mulhouse Alsace Agglomération in 2017.
Latest News
(Posted on 26/11/23)
A 194 million euro investment in North Sea Port will secure large-scale CO2 reduction by the largest... Read more
(Posted on 17/11/23)
The Central Association of German Seaport Operators (ZDS) has called for a decisive German port policy... Read more
(Posted on 13/11/23)
A groundbreaking feasibility study has highlighted the potential for using clean ammonia to refuel ships... Read more
(Posted on 05/11/23)
IAPH has announced the ratification by the IAPH Council of the new IAPH Board. The Board is formed by... Read more
(Posted on 05/11/23)
CN has announced that it acquired from Genesee & Wyoming Inc., a stake in the Cape Breton &... Read more
(Posted on 31/10/23)
Due to continued very high inflation, the Hamburg Port Authority (HPA) will raise port fees by an average... Read more
(Posted on 31/10/23)
The UK's leading ports group, Associated British Ports (ABP), has appointed Jeff Gibb as Lead... Read more
(Posted on 26/10/23)
In the first nine months of 2023, there was 6% less throughput in the port of Rotterdam: 329.9 million... Read more
(Posted on 26/10/23)
After nine months, the total throughput of Port of Antwerp-Bruges was 204.4 million tonnes, a drop of... Read more
(Posted on 19/10/23)
LOGISTEC Corporation have announced that it has entered into an arrangement agreement with 1443373... Read more