Dedicated Sénalia rewarded with record year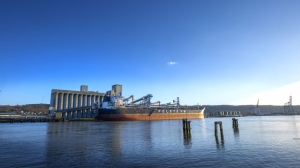 (Posted on 14/08/20)
Sénalia Group, the operator of the largest port and food industry grain silos in the port of Rouen is a mature company with a long history. However, 2020 is destined to be its proudest year yet as the operator has worked continuously through the Covid-19 pandemic to feed a hungry world and achieve record throughput.
Chief Executive Officer, Gilles Kinelberger told IBJ, "Since the start of the pandemic, we have stayed at our post. The agricultural sector is a priority sector and we have not stopped exporting our cereals, to feed a world that needs it, whatever the conditions.
I am very proud of what we have been able to do since March. And we have never ceased to receive messages of encouragement to continue our efforts in this direction.
"This year will be for Sénalia, a record year since between 07/01/19 and 06/30/20, we will have loaded 5.3 MT of cereals. It is the record never reached by Sénalia since its creation.
With all of our teams, and despite traffic restrictions, work restrictions, we took the helm of the ship Sénalia to bring it to port."
In 1957, the representatives of 20 cooperatives came together in France to create UCACEL (Union des Coopératives Agricoles de Céréales d'Eure-et-Loir) with a view of building and managing a silo.
SPR (Sica des Silos Portuaires de Rouen) had been founded in 1958.
In 1961, the two organizations (UCACEL and SPR) decided to build two silos on the same site. Presqu'île Elie in Rouen was chosen for the site.
SPR and UCACEL merged in 2002, forming a single organization known today as Sénalia.
Sénalia is a Union of cooperative collectors and private dealers, all members of the company. These members represent more than 60 percent of the French total throughput.
After a year of construction, in 2019, the loading dock at the Sénalia, Rouen - Grand-Couronne site was renewed with the extension of the berth and the installation of three new ship loaders, equipped with an anti-dust system. A worksite partly achieved with activity on the old cranes. The project cost €20 million (€11 million invested by Senalia and €9 million invested by the Port of Rouen).
It ended eight years of significant investment on all Sénalia sites.
With these ship loaders loading at 3,000t/hrr and with no need for the vessel to move during loading, Sénalia is equipped with the latest technologies for ship loading as well as the most modern loading equipment in Western Europe.
Latest News
(Posted on 31/03/23)
The Port of Long Beach and the Los Angeles/Orange Counties Building and Construction Trades Council... Read more
(Posted on 28/03/23)
Canadian Pacific has said that, on 14 April, 2023, it will exercise the authority granted by the U.S... Read more
(Posted on 24/03/23)
LOGISTEC Corporation, a leading marine and environmental services provider, has announced its financial... Read more
(Posted on 24/03/23)
Terence Bowles, President and CEO of the St. Lawrence Seaway Management Corporation (SLSMC), and Adam... Read more
(Posted on 20/03/23)
Abu Dhabi based AD Ports Group, the leading facilitator of global trade, logistics, and industry, has... Read more
(Posted on 20/03/23)
Grain handling at the Port of Immingham is increasing thanks to the new opportunities presented by investment... Read more
(Posted on 07/03/23)
Marcor Stevedoring has signed a contract adding Liebherr's largest and most powerful mobile harbour... Read more
(Posted on 07/03/23)
AD Ports Group, an Abu Dhabi based leading facilitator of global trade, logistics, and industry, and... Read more
(Posted on 02/03/23)
LOGISTEC Stevedoring Inc., a subsidiary of LOGISTEC Corporation, a leading North American marine and... Read more
(Posted on 28/02/23)
End-of-year figures for total traffic in the Spanish Port of Bilbao stand at 32.7 million tonnes, up... Read more