ABL builds platform to expand transshipment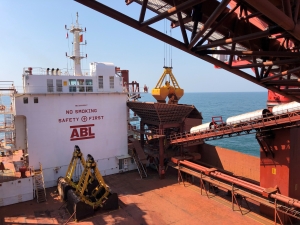 (Posted on 31/03/20)
Asian Bulk Logistics' transhipment alone has reached 32 million tons in 2019, and the company now owns or operates a fleet of 10 transshippers, floating cranes, and about 100 tugs and barges.
PT. Asian Bulk Logistics (ABL), Jakarta is a ship owner and operator endeavouring to provide comprehensive logistics support primarily to the mining industry in Indonesia.
ABL, one of the fastest growing logistics companies in Indonesia, is now operating globally and has extended its reach into new markets. In 2019 ABL were able to expand their operations further within the Indonesian coal sector that provides a good platform for growth. ABL are now also operating in Africa in the bauxite, have projects in pipeline for iron ore and LNG sectors. With a simple business model innovation, ABL was able to double its revenue in 2019 without much investment. In 2020, ABL is expecting further growth into new sectors and geographies.
ABL turns 10 this year and has harvested its experience of delivering a wide range of logistics services in challenging environments, which means that it can offer solutions in the mineral mining sectors and energy sectors for large scale and complex projects. ABL expertise and resources as they stand now enable them to take on large scale transhipment projects, Shipping projects, Energy projects and more. This they are able and ready to do anywhere in the world. Their track record for the decade demonstrates such capabilities.
The company is growing to be a global player in Energy logistics and dry bulk cargo shipping sectors.
Latest News
(Posted on 26/11/23)
A 194 million euro investment in North Sea Port will secure large-scale CO2 reduction by the largest... Read more
(Posted on 17/11/23)
The Central Association of German Seaport Operators (ZDS) has called for a decisive German port policy... Read more
(Posted on 13/11/23)
A groundbreaking feasibility study has highlighted the potential for using clean ammonia to refuel ships... Read more
(Posted on 05/11/23)
IAPH has announced the ratification by the IAPH Council of the new IAPH Board. The Board is formed by... Read more
(Posted on 05/11/23)
CN has announced that it acquired from Genesee & Wyoming Inc., a stake in the Cape Breton &... Read more
(Posted on 31/10/23)
Due to continued very high inflation, the Hamburg Port Authority (HPA) will raise port fees by an average... Read more
(Posted on 31/10/23)
The UK's leading ports group, Associated British Ports (ABP), has appointed Jeff Gibb as Lead... Read more
(Posted on 26/10/23)
In the first nine months of 2023, there was 6% less throughput in the port of Rotterdam: 329.9 million... Read more
(Posted on 26/10/23)
After nine months, the total throughput of Port of Antwerp-Bruges was 204.4 million tonnes, a drop of... Read more
(Posted on 19/10/23)
LOGISTEC Corporation have announced that it has entered into an arrangement agreement with 1443373... Read more