Steel, power and mining drive Essar tonnage growth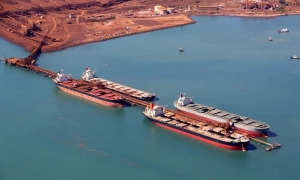 (Posted on 12/10/20)
Essar Ports, a leading private port infrastructure company in India, has announce that for the quarter ended September 30, 2020, it has recorded revenue for 12.6 million tonnes of cargo, up by 12.5 percent from previous quarter ended June 30, 2020, overcoming the challenges posed due to the C-19 pandemic and led by growth in steel and power sectors.
For the six months ended September 30, 2020, the company has recorded revenue for 23.8 million tonnes of cargo, despite a slowdown in April as India introduced the biggest ever lockdown in the world to contain the spread of the deadly disease thus bringing normal functioning to a complete halt.
"We at Essar Ports are proud to be part of the country's dream of emerging as a self-dependent nation. Our cargo handling performance is an example of how the country is waiting to bounce back on the growth trajectory and move forward. Our terminals have clocked revenue for cargo handling of 23.8 million tonnes for the six months with a growth 12.5% in Q2 FY 21 as compared to Q1 FY 21. We are proud of our people and all other stakeholders to make this possible," said Mr. Rajiv Agarwal, CEO & MD, Essar Ports Ltd.
Essar Ports specializes in development and operations of ports and terminals for handling dry bulk, break bulk, liquid and general cargo. It is one of the largest private sector port operators in India in terms of capacity and throughput. It has four operational terminals in India—one each in Hazira and Salaya (both in Gujarat) on the west coast, and in Visakhapatnam and Paradip on the east coast. The current operational capacity of the port terminals in India is 110 MTPA.
Latest News
(Posted on 26/11/23)
A 194 million euro investment in North Sea Port will secure large-scale CO2 reduction by the largest... Read more
(Posted on 17/11/23)
The Central Association of German Seaport Operators (ZDS) has called for a decisive German port policy... Read more
(Posted on 13/11/23)
A groundbreaking feasibility study has highlighted the potential for using clean ammonia to refuel ships... Read more
(Posted on 05/11/23)
IAPH has announced the ratification by the IAPH Council of the new IAPH Board. The Board is formed by... Read more
(Posted on 05/11/23)
CN has announced that it acquired from Genesee & Wyoming Inc., a stake in the Cape Breton &... Read more
(Posted on 31/10/23)
Due to continued very high inflation, the Hamburg Port Authority (HPA) will raise port fees by an average... Read more
(Posted on 31/10/23)
The UK's leading ports group, Associated British Ports (ABP), has appointed Jeff Gibb as Lead... Read more
(Posted on 26/10/23)
In the first nine months of 2023, there was 6% less throughput in the port of Rotterdam: 329.9 million... Read more
(Posted on 26/10/23)
After nine months, the total throughput of Port of Antwerp-Bruges was 204.4 million tonnes, a drop of... Read more
(Posted on 19/10/23)
LOGISTEC Corporation have announced that it has entered into an arrangement agreement with 1443373... Read more