Outstanding results at Trois-Rivières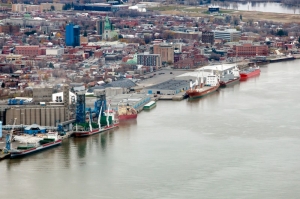 (Posted on 18/06/20)
The Trois-Rivières Port Authority (TRPA) has held its annual general assembly, which was an opportunity to highlight the exceptional results of 2019. Over the past year, the Port welcomed 260 vessels and set a new handling record of 4.2 million metric tonnes of cargo. "Once again, we owe this record-breaking year to our valued partners - our users, workers and customers. Their commitment makes the Port of Trois-Rivières a facility that stands out," said Gaétan Boivin, President and CEO. These excellent results have generated a net income of $2.9 million for the TRPA.
The Port is an important player in regional, national and international economic development for major industrial sectors such as the aluminum
industry, forestry and agri-food. The Port of Trois-Rivières accommodates 55,000 trucks, 11,000 railcars and
more than 250 merchant and cruise ships annually originating from over 100 different ports in more than
40 countries around the world. It handles over 4 million metric tonnes of traffic and supports more than
2,000 direct, indirect and induced jobs.
Due to the pandemic, the TRPA held its meeting online. Moreover, the contribution of Port
stakeholders to the maintenance of the Port's activities since the beginning of this health
crisis was mentioned from the outset. "I would like to highlight the resilience and exemplary
work demonstrated by the Port's partners and workers, as well as the employees and
directors of our organization. All are working closely together to take the best preventive and
protective measures. Our port community is very closely knit and an exceptional situation
such as the one we are currently experiencing proves it once again," said Danielle St Amand, Chairwoman of the Board of Directors.
"The Port of Trois-Rivières is very present in its community and has been for many years. It goes
without saying that we had to make a special gesture in connection with the health crisis we
are experiencing. These organizations, which are already under a lot of pressure in normal
times, are currently experiencing additional pressure caused by the pandemic while the
benefits they normally hold are being compromised. We hope to make a difference by
contributing to their mission," explained Mr. Boivin.
2019 was marked by the implementation of several projects from the On Course for 2030
development plan. Two innovation and environmental investment funds were launched.
Thanks to these envelopes, $2.5 million, spread over five years, are available to users and
clients in order to make the Port more competitive while respecting the environment. This
financial assistance is added to the investments that each of the Port's cargo-handling
clients has made, or will make, to optimize their operations and improve their services.
Latest News
(Posted on 26/11/23)
A 194 million euro investment in North Sea Port will secure large-scale CO2 reduction by the largest... Read more
(Posted on 17/11/23)
The Central Association of German Seaport Operators (ZDS) has called for a decisive German port policy... Read more
(Posted on 13/11/23)
A groundbreaking feasibility study has highlighted the potential for using clean ammonia to refuel ships... Read more
(Posted on 05/11/23)
IAPH has announced the ratification by the IAPH Council of the new IAPH Board. The Board is formed by... Read more
(Posted on 05/11/23)
CN has announced that it acquired from Genesee & Wyoming Inc., a stake in the Cape Breton &... Read more
(Posted on 31/10/23)
Due to continued very high inflation, the Hamburg Port Authority (HPA) will raise port fees by an average... Read more
(Posted on 31/10/23)
The UK's leading ports group, Associated British Ports (ABP), has appointed Jeff Gibb as Lead... Read more
(Posted on 26/10/23)
In the first nine months of 2023, there was 6% less throughput in the port of Rotterdam: 329.9 million... Read more
(Posted on 26/10/23)
After nine months, the total throughput of Port of Antwerp-Bruges was 204.4 million tonnes, a drop of... Read more
(Posted on 19/10/23)
LOGISTEC Corporation have announced that it has entered into an arrangement agreement with 1443373... Read more