Schnabel takes over as GvSH chairman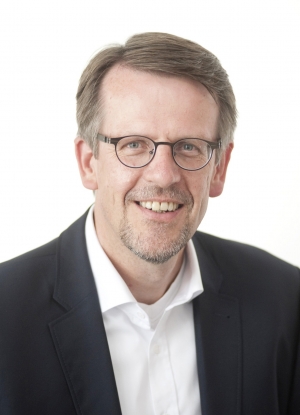 (Posted on 02/01/20)
On January 1, 2020, the leadership of the Association of Schleswig-Holstein Ports (GvSH) changed. Frank Schnabel, managing director of Brunsbüttel Ports GmbH / SCHRAMM group, succeeds Sebastian Jürgens, managing director of the Lübecker Hafen-Gesellschaft (LHG), as chairman of the board. Simultaneously Sven Wernecke hands over the position as CEO to Carsten Lorleberg, who held this position during Frank Schnabel's first term already.
The LHG representatives controlled the fortunes of the Schleswig-Holstein Port Association for around three and a half years. One of the main focuses of the outgoing Chairman Jürgens was the promotion of the smaller port locations in Schleswig-Holstein. A total of three Schleswig-Holstein port days were initiated with a focus on the regional ports. The venues were Husum, Flensburg and Rendsburg.
Looking back, Jürgens states: "The association is an important mouthpiece for the interests of the Schleswig-Holstein ports. I was particularly concerned with strengthening the smaller ports. With the help of the association's work, we have given these ports the opportunity to place their concerns prominently."
Schnabel takes over the chairmanship of the GvSH for the second time. He had previously chaired the association for around four and a half years from September 2011 to March 2016. During this time he established, among other things, the annual organization of the Schleswig-Holstein port day.
It is an honour for Frank Schnabel that the board and the members give him the confidence for the second time to take over the leadership of the association. "The ports in Schleswig-Holstein score with their versatility. Due to its location on two seas, the ports in our state take on a multitude of different tasks. That makes them as special as they are significant. I am pleased to be able to represent the interests of all ports towards politics, administration and the public even more intensively in my role as chairman of the board."
Schnabel will have the first opportunity to do so on 13th February in Berlin, when the annual parliamentary breakfast of the GvSH takes place in the Permanent Representation of Schleswig-Holstein to the federal government. Together with Dr. Bernd Buchholz, Minister for the Economic affairs, Transport, Labour, Technology and Tourism of the State of Schleswig-Holstein, the GvSH members enter into a dialogue with federal parliamentarians in the relaxed atmosphere of a maritime breakfast. The focus of the discussions is on the importance, challenges and perspectives of the Schleswig-Holstein ports as the hub of maritime logistics at the state, federal and European levels.
Latest News
(Posted on 24/03/23)
LOGISTEC Corporation, a leading marine and environmental services provider, has announced its financial... Read more
(Posted on 24/03/23)
Terence Bowles, President and CEO of the St. Lawrence Seaway Management Corporation (SLSMC), and Adam... Read more
(Posted on 20/03/23)
Abu Dhabi based AD Ports Group, the leading facilitator of global trade, logistics, and industry, has... Read more
(Posted on 20/03/23)
Grain handling at the Port of Immingham is increasing thanks to the new opportunities presented by investment... Read more
(Posted on 07/03/23)
Marcor Stevedoring has signed a contract adding Liebherr's largest and most powerful mobile harbour... Read more
(Posted on 07/03/23)
AD Ports Group, an Abu Dhabi based leading facilitator of global trade, logistics, and industry, and... Read more
(Posted on 02/03/23)
LOGISTEC Stevedoring Inc., a subsidiary of LOGISTEC Corporation, a leading North American marine and... Read more
(Posted on 28/02/23)
End-of-year figures for total traffic in the Spanish Port of Bilbao stand at 32.7 million tonnes, up... Read more
(Posted on 24/02/23)
The Port of Sept-Îles and LOGISTEC Arrimage Inc. have announced that they have reached the impressive... Read more
(Posted on 24/02/23)
The war in Ukraine led to unprecedented changes in goods flows last year. At 467.4 million tonnes, total... Read more