Burkman new Vancouver USA Port Commissioner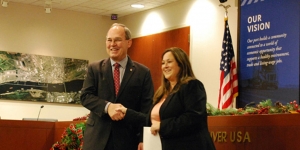 (Posted on 02/01/20)
Jack Burkman was sworn in as a Port of Vancouver USA commissioner on Monday, 30th December at the port's Administrative Office. Michelle Allan, Port of Vancouver Executive Services Manager, who is a notary public, presided over the oath of office ceremony.
The Port of Vancouver USA is primarily a bulk import and export facility with dedicated facilities for specific commodities, such as grain, soy beans, corn, mineral ores, concentrates, fertilizers, clays, bauxite and agricultural commodities.
Burkman was elected to represent the port's District 3 and begins his term on Jan. 1, 2020. As Commissioner, he supports creating additional family wage jobs in Southwest Washington, improving freight mobility efficiencies, and developing a skilled workforce in the Greater Vancouver community. He also promotes continued transparency, community involvement, and fiscal responsibility at the port.
For over three decades, Burkman has been extremely active in the Clark County community. In addition to three terms as a Vancouver Councilmember and 10 years as a Clark College Trustee, he has served on numerous public and non-profit agency boards. These include the Regional Transportation Council, C-Tran, Portland Metro's Joint Policy Advisory Committee on Transportation, Fort Vancouver Regional Library, League of United Latin American Citizens, and the YWCA Clark County.
Burkman is a native of western Montana and holds a degree in Mechanical Engineering from Montana State University. He has spent the last 35 years in Vancouver and retired from Hewlett Packard after 28-years as an R&D manager leading development and commercialization of new technology and products for global markets.
Burkman's term ends Dec. 31, 2025. The Port of Vancouver USA has a three-member Board of Commissioners that sets policy and direction for the organization. Commissioners are elected to six-year terms of office by the voters in three port districts. Port commission meetings are open to the public and are normally held on the second and fourth Tuesdays of each month beginning at 8:30 a.m. at the administrative office of the Port of Vancouver.
Latest News
(Posted on 03/12/23)
In the presence of Kassym-Jomart Tokayev, President of the Republic of Kazakhstan, AD Ports Group, a... Read more
(Posted on 03/12/23)
Lhyfe, a global pioneer in the production of renewable green hydrogen for transportation and industrial... Read more
(Posted on 26/11/23)
A 194 million euro investment in North Sea Port will secure large-scale CO2 reduction by the largest... Read more
(Posted on 17/11/23)
The Central Association of German Seaport Operators (ZDS) has called for a decisive German port policy... Read more
(Posted on 13/11/23)
A groundbreaking feasibility study has highlighted the potential for using clean ammonia to refuel ships... Read more
(Posted on 05/11/23)
IAPH has announced the ratification by the IAPH Council of the new IAPH Board. The Board is formed by... Read more
(Posted on 05/11/23)
CN has announced that it acquired from Genesee & Wyoming Inc., a stake in the Cape Breton &... Read more
(Posted on 31/10/23)
Due to continued very high inflation, the Hamburg Port Authority (HPA) will raise port fees by an average... Read more
(Posted on 31/10/23)
The UK's leading ports group, Associated British Ports (ABP), has appointed Jeff Gibb as Lead... Read more
(Posted on 26/10/23)
In the first nine months of 2023, there was 6% less throughput in the port of Rotterdam: 329.9 million... Read more