Rotterdam welcomes Green Deal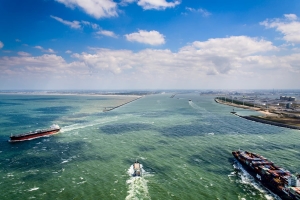 (Posted on 08/01/20)
The Port of Rotterdam Authority has welcomed the Green Deal presented by the European Commission in December. 'It is good that Europe has ambitious plans to combat climate change, because the challenges are huge', stated Allard Castelein, Port of Rotterdam Authority CEO. 'The objective of 50 to 55% CO2 reduction by 2030 brings Europe in line with The Netherlands' ambition, which contributes to a level playing field for companies across Europe.'
The Port Authority welcomes such measures as additional investment in rail and inland shipping for the transport sector and the acceleration of low and zero emission transport. For industry, the Port Authority is positive about the plans to stimulate important technologies including hydrogen production, development of alternative fuels and the capture, storage and use of CO2. Europe's commitment to developing cross-border infrastructure for new energy and the development of a circular economy are also fully in line with the Port Authority strategy.
The 'sustainable in 3 steps' strategy was developed in Rotterdam a year and a half ago together with government agencies, the business sector, NGOs and the scientific community. The business sector and the Port Authority are now focusing on a series of projects to realise this strategy. The Port Authority is keen to collaborate with the EU in accelerating these projects and, in so doing, make an active contribution to the Dutch and European climate objectives.
As the transition measures will require considerable funds, certainly at the start, it is good that the European Commission is proposing to spend a quarter of the EU budget on measures from the Green Deal.
Several of the measures stated in the Green Deal appear logical, but the detailing of these plans is still unclear. This concerns, for example, the access of the most polluting vessels to European ports, compulsory shore power for vessels and the possible introduction of an Emissions Trading System (ETS) for shipping. Particular care is needed in further developing these plans to ensure realisation of an efficient and effective transition, which means working towards a CO2-neutral Europe for the lowest possible costs to society.
Latest News
(Posted on 27/01/23)
In addition to helping its 12 member ports decarbonize, the World Ports Climate Action Program (WPCAP... Read more
(Posted on 27/01/23)
The first ship of the year, M/V Cape Alexandros, arrived at 11:00 a.m. on January 4, 2023, from Rotterdam... Read more
(Posted on 27/01/23)
AD Ports Group the leading facilitator of global trade, logistics, and industry, has signed a Memorandum... Read more
(Posted on 23/01/23)
In the presence of the UAE President His Highness Sheikh Mohamed bin Zayed Al Nahyan, and the President... Read more
(Posted on 16/01/23)
The Port of South Louisiana (Port SL) CEO Paul Matthews, has announced that it has entered into a Purchase... Read more
(Posted on 16/01/23)
With 73.6 million tons of cargo transhipment from maritime shipping (+7%) and 64.5 million tons from... Read more
(Posted on 12/01/23)
Despite unfavourable economic conditions, traffic in the port of Dunkerque, the third largest port in... Read more
(Posted on 10/01/23)
North Sea Port CEO Daan Schalck has been looking back as well as forward. 2022, was a year in which... Read more
(Posted on 10/01/23)
A multi-million-pound deal has been agreed to build a new road salt storage facility to support Scotland... Read more
(Posted on 10/01/23)
Ports Minister Rita Saffioti has announced Samuel McSkimming as the new CEO of the Pilbara Ports Authority... Read more