Cheers to Sept-Îles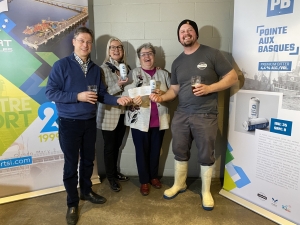 (Posted on 23/12/19)
Back in August, at the Port Day event at Mgr-Blanche wharf, the Port of Sept-Îles andMicrobrasserie La Compagnie proudly unveiled a brand new beer called "Pointe aux Basques." The new brew is the result of a joint initiative to mark the local port authority's 20th anniversary.
The Port of Sept-Îles is North America's largest ore-handling port, with a projected volume of close to 30 million tonnes for 2019.
For each beer sold, the Port of Sept-Îles and Microbrasserie La Compagnie pledged to make a donation to a community
organization that supports families in Sept-Îles. The first organization to benefit from the partnership is Maison de la famille l'Envol, a family support centre.
With the holiday season approaching, and given the many needs in the community, the Port of Sept-Îles and Microbrasserie La Compagnie are pleased to announce a $2,000 donation to Maison de la famille L'Envol family support centre, after just four months of sales.
"We couldn't have hoped for better results from this partnership with Microbrasserie La Compagnie," said Pierre D. Gagnon, President and CEO of the Port of Sept-Îles. "We have the same philosophy on the importance of helping those in need in our community—it's a responsibility we take on proudly. L'Envol makes a very valuable contribution to our community and we are more than happy to help, especially at this time of year."
"We are very proud of our partnership with the Port of Sept-Îles," said Billy Dumas, Co-owner of La Compagnie. "We created Pointe au Basques for two reasons: to make a meaningful contribution to our community and to highlight an important milestone in our industrial history—the beginning of port operations in Sept-Îles."
We want to thank fans of Pointe aux Basques and hope the holidays will be a good opportunity for more people to give it a try. That way, we can provide even greater support for L'Envol and the families it serves. A donation will be made for each
Pointe aux Basques beer sold until August, a full year after the beer was launched. "To boost fundraising even further, we have decided to offer Pointe aux Basques in cans, so those who are feeling extra generous can proudly stock it in their fridges at home," said Billy Dumas.
The port facilities at Sept-Îles play a vital and strategic role in the economy of Eastern Canada. Annual economic impacts are estimated at nearly $1 billion and almost 4,000 direct and indirect jobs.
Latest News
(Posted on 23/01/23)
In the presence of the UAE President His Highness Sheikh Mohamed bin Zayed Al Nahyan, and the President... Read more
(Posted on 16/01/23)
The Port of South Louisiana (Port SL) CEO Paul Matthews, has announced that it has entered into a Purchase... Read more
(Posted on 16/01/23)
With 73.6 million tons of cargo transhipment from maritime shipping (+7%) and 64.5 million tons from... Read more
(Posted on 12/01/23)
Despite unfavourable economic conditions, traffic in the port of Dunkerque, the third largest port in... Read more
(Posted on 10/01/23)
North Sea Port CEO Daan Schalck has been looking back as well as forward. 2022, was a year in which... Read more
(Posted on 10/01/23)
A multi-million-pound deal has been agreed to build a new road salt storage facility to support Scotland... Read more
(Posted on 10/01/23)
Ports Minister Rita Saffioti has announced Samuel McSkimming as the new CEO of the Pilbara Ports Authority... Read more
(Posted on 04/01/23)
AD Ports Group has delivered on its commitment to produce remarkable results and extend its international... Read more
(Posted on 23/12/22)
A new industrial property has been added to the Thorold Multimodal Hub in Canada, a growing industrial... Read more
(Posted on 20/12/22)
The Department of Transport and Main Roads (DTMR) in Australia is undertaking public consultation on... Read more