Cargo Wagon and Nexxiot partner up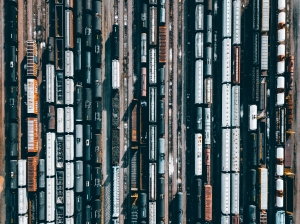 (Posted on 22/07/20)
Nexxiot and Slovakian based lessor Cargo Wagon team up regarding the digital rail cargo transformation to provide new and innovative services for their customers. As of May 2020, Nexxiot started equipping the fleet of Cargo Wagon with its IoT sensors that enable global digital monitoring. The first upgraded 1,200 digital wagons out of a total fleet of 9,000 will be provided to customers in Poland and Austria. Thus, Nexxiot is further expanding its activities towards Eastern Europe.
Cargo Wagon's COO Pavel Holomek says: "The digitalization of rail freight became daily reality for most of our customers and thus priority on our marketing agenda. We will work closely with Nexxiot on improving maintenance of our railcars, fleet management and delivering value added services to the end-customers."
Nexxiot's CEO Stefan Kalmund says: "Cargo Wagon is a key player on the freight wagon market in central and eastern Europe. As a new partner we further advance their digital agenda and growth strategy with our services. The introduction of our Globehopper solution and the Nexxiot Connect Cloud will create added value for Cargo Wagon. In addition, we will support the company as a partner with our extensive expertise in the digitalization of the rail sector. Our knowledge in making use of data from connectivity devices will also be of great benefit for Cargo Wagon."
The IoT sensors developed by Nexxiot, called Globehopper, provide a large amount of data to the clients. In addition to this gateway device, the company has developed a software solution to analyze the information generated. It offers the complete infrastructure with a cloud-based platform for processing the data collected. For Cargo Wagon, this means an optimized service for their customers, by bringing transparency into critical supply chain events.
Pavel Holomek adds: "At Cargo Wagon we are excited about gathering data and getting insights for improved planning, efficiency and sustainability in the business. This will be rolled out as a core solution initially including features like location based services, shock detection monitoring and maintenance service packages. The project will also include metadata libraries so that customers can store important wagon details in the Nexxiot Connect Cloud".
CARGO WAGON a.s., a joint venture of AAE Wagon, a VTG participation and ZSSK CARGO Slovakia, has purchased and leases back 8.000 freight wagons to Slovak national freight carrier. It also operates a fleet of more than 1.000 standard freight cars rented on CEE market to private customers as well as national carriers from Austria, France, Germany, Hungary, Netherlands, Poland and Slovenia. Founded in 2015, Cargo Wagon has optimized its wagon fleet for steel, power, construction, and wood industry.
Nexxiot AG, headquartered in Zurich, Switzerland, is a pioneer and industry leader in the development and delivery of digital supply chain management solutions for the railway and cargo industry.
Latest News
(Posted on 19/09/23)
HES Gdynia in Poland has started the construction works of a grain storage facility extension in port... Read more
(Posted on 12/09/23)
A joint Statement from the United States and the European Union has been released on support for Angola... Read more
(Posted on 08/09/23)
Associated British Ports has announced the successful renewal of a lease agreement with Breedon Group... Read more
(Posted on 04/09/23)
In North Sea Port, the transportation of goods to the hinterland by inland waterway continues to increase... Read more
(Posted on 28/08/23)
Both the tense economic situation in Europe, especially in Germany, and background geopolitical factors... Read more
(Posted on 21/08/23)
Abu Dhabi based AD Ports Group has announced its financial results for the second quarter of 2023, reporting... Read more
(Posted on 14/08/23)
SOHAR Port and Freezone in the Sultanate of Oman, has signed a land lease agreement with Sohar Noble... Read more
(Posted on 09/08/23)
CN has published its 2023-2024 Grain Plan, which builds on the operational improvements introduced this... Read more
(Posted on 02/08/23)
The Maritime Standard is delighted to announce the unveiling of the second session, titled 'Ports and... Read more
(Posted on 01/08/23)
Abu Dhabi based AD Ports Group, the leading global facilitator of trade, logistics, and industry, and... Read more