Dunkerque-Port increases decarbonisation commitment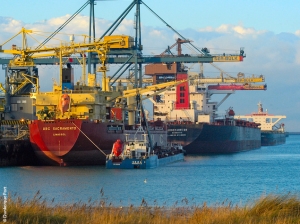 (Posted on 16/07/20)
Dunkerque-Port has joined the "Getting to Zero" Coalition, in order to support the decarbonisation of the shipping industry by working in conjunction with companies from the shipping, energy, infrastructure and finance sectors.
France's third-ranking port, Dunkerque-Port is well known as a port handling heavy bulk cargoes for its numerous industrial installations. Classified as the 7th port of the North Europe Range which extends from Le Havre to Hamburg, it is also France's leading port for ore and coal imports; France's leading port for containerised fruit imports; France's leading port for copper imports; and France's second-ranking port for trade with Great Britain.
The aim of the Coalition is to help reach the objective set by the International Maritime Organisation to reduce greenhouse gas emissions by shipping by at least 50% by 2050 (compared with the levels of 2008). To achieve this, through its members, the Coalition aims to commission zero-emission and commercially viable ocean-going vessels, powered by zero-emission fuels by 2030.
By participating in the "Fuels and Technologies" working group, the port's membership in the Coalition marks an additional step in Dunkerque-Port's commitment to its customers in the maritime sector and underlines its intent to act on their energy demand, by helping them to reduce their own emissions.
Dunkerque-Port intends to make its contribution to the Coalition by sharing its expertise, in particular on the strategic priorities of port infrastructure requirements for fuel storage and facilities for refuelling ships.
Referring to the membership, Stéphane Raison, President of the Executive Board of Dunkerque-Port stated: "By joining the "Getting to Zero" Coalition, we wish to support innovation and participate in the concerted action taken by all the stakeholders in the sector, thereby helping to more effectively reduce the carbon footprint of maritime transport. Ports are key locations for the development of infrastructures dedicated to the production of new zero-carbon energy sources for ships. The Port of Dunkerque aims to install low-carbon (LNG) and zero-carbon power production plants (Hydrogen, dimethyl ether (DME), renewable electricity) within its precinct over the next five years in order to fuel ships fitted with new engines."
Launched during the United Nations Climate Action Summit organised in New York (USA) on 23 September 2019, the "Getting to Zero" Coalition is a partnership between the World Maritime Forum, "Friends of Ocean Action" and the World Economic Forum.
Latest News
(Posted on 02/06/23)
Vancouver Fraser Port Authority CEO Robin Silvester has announced that he will be leaving the port authority... Read more
(Posted on 31/05/23)
AD Ports Group , the Abu Dhabi based leading facilitator of global trade, logistics and industry, has... Read more
(Posted on 31/05/23)
The World Port Climate Action Program (WPCAP) will be extended with a new focus on shore power, new... Read more
(Posted on 30/05/23)
Ships sailing from the North Sea via the Westerschelde to unload dry bulk goods at OVET's quay in Vlissingen... Read more
(Posted on 23/05/23)
The problematic trend in the world economy is affecting Port of Hamburg throughput figures. As in other... Read more
(Posted on 23/05/23)
A senior delegation from United Arab Emirates (UAE) visited Karachi and met with H.E. Faisal Sabzwari... Read more
(Posted on 16/05/23)
Two new electric harbour cranes, representing an £8.6 million investment, are the latest arrivals... Read more
(Posted on 14/05/23)
At a ceremony held during the transport logistic trade fair in Munich, Algis Latakas, General Director... Read more
(Posted on 08/05/23)
Associated British Ports (ABP's) Port of Ipswich, the UK's leading grain export port, has... Read more
(Posted on 02/05/23)
AD Ports Group, the Abu Dhabi based leading facilitator of global trade, logistics and industry, has... Read more