Schalck highlights North Sea Port record figures despite war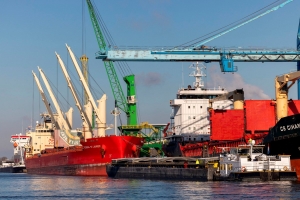 (Posted on 10/01/23)
North Sea Port CEO Daan Schalck has been looking back as well as forward. 2022, was a year in which a war and an energy crisis followed the corona crisis, and to 2023, a year in which energy transition and security will be high on the agenda.
"The war between Russia and Ukraine and energy prices have heavily affected the entire world economy, and therefore our port, as well," Daan recalls. "Russian trade volumes declined, Ukrainian grain imports came to a standstill, energy prices rose. Despite all that, our port has managed to achieve absolute record figures."
More growth means more work, Daan explains: "At our port, we are also noticing that the labour market is under pressure and that talent is harder to find. And we need that talent, as we've created more than 6,000 additional jobs since the merger. Here's how I see it: In the diversity of work in our port, there really is a job for everyone!"
When the CEO looks ahead to the future of the port, he sees energy transition and security on the agenda. "We are among the leaders in green hydrogen, and all companies in the port area are making great efforts to reduce CO2. Together we will be able to reduce millions of tons of CO2 emissions," he proudly notes. "In addition, not only drug crime, but also cybersecurity, road safety and infrastructure will receive more attention than in the past."
North Sea Port manages, operates and develops the 60-kilometres-long cross-border port area from the Dutch port of Vlissingen to Ghent in Flanders. The port is versatile, multimodal, and offers space for development. Since its existence, it has ranked among the top of the European seaports and with 250 staff members, actively contributes to more prosperity in its region in Belgium and the Netherlands.
Latest News
(Posted on 07/12/23)
US Port owners should start immediate planning to take advantage of the $3bn available in grants as... Read more
(Posted on 07/12/23)
The Vancouver Fraser Port Authority's board of directors has announced that it has appointed Peter... Read more
(Posted on 03/12/23)
In the presence of Kassym-Jomart Tokayev, President of the Republic of Kazakhstan, AD Ports Group, a... Read more
(Posted on 03/12/23)
Lhyfe, a global pioneer in the production of renewable green hydrogen for transportation and industrial... Read more
(Posted on 26/11/23)
A 194 million euro investment in North Sea Port will secure large-scale CO2 reduction by the largest... Read more
(Posted on 17/11/23)
The Central Association of German Seaport Operators (ZDS) has called for a decisive German port policy... Read more
(Posted on 13/11/23)
A groundbreaking feasibility study has highlighted the potential for using clean ammonia to refuel ships... Read more
(Posted on 05/11/23)
IAPH has announced the ratification by the IAPH Council of the new IAPH Board. The Board is formed by... Read more
(Posted on 05/11/23)
CN has announced that it acquired from Genesee & Wyoming Inc., a stake in the Cape Breton &... Read more
(Posted on 31/10/23)
Due to continued very high inflation, the Hamburg Port Authority (HPA) will raise port fees by an average... Read more